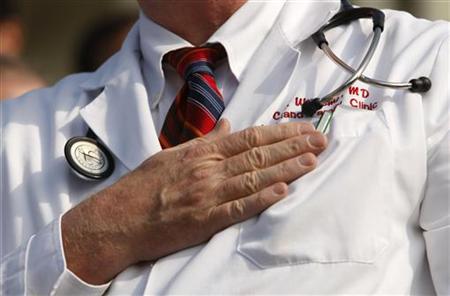 Government health benefits for some 9 million of the sickest and poorest U.S. citizens will come under scrutiny from the congressional "super committee" seeking to cut the nation's debt.These are Americans who qualify for both the
Medicare
and Medicaid programs for the elderly and the poor, based on their disability, age and low income.
In bureaucratic parlance they are called "dual-eligibles" and both Democrats and Republicans see their care as one major area for potential savings. The super committee panel, with six members from each party, is taking a look at proposals to reduce spending on this group, a congressional aide said.
Medicare and Medicaid spend about $300 billion a year for dual-eligibles, about half of whom are under treatment for five or more chronic conditions like diabetes and hypertension.
While tackling either Medicare or Medicaid has proved politically unpopular, the higher proportion of cost for dual-eligibles, and their status may make them an easier segment for the two parties to agree on.
"If they do anything in the super committee, it seems to me this is … such an obvious area," said William Hoagland, a former Republican aide for the Senate Budget Committee who is now with the health insurer CIGNA Corp.
These Medicare– and Medicaid-eligible patients represent about 15 percent of enrollees in Medicaid but account for 39 percent of program costs. They also account for 16 percent of Medicare enrollees and 27 percent of program costs.
President Barack Obama is proposing shifting federal drug reimbursements for this group to lower Medicaid rates rather than paying the higher Medicare prices, a move strongly opposed by the pharmaceutical industry.
Insurance companies and states are pressing for policy changes to encourage more use of managed care which would in turn encourage less costly forms of treatment, from closer scrutiny on the need for specific services to incentives for preventive care.
Obama's healthcare overhaul created a new office within the federal Center for Medicare and Medicaid Services to develop cost-saving models of coordinated care.
Melanie Bella, who heads the new office, told the Senate Finance Committee last week that it would take time before any savings are realized.
THE MANAGED CARE OPTION
Cash-strapped states are pushing for more, particularly the power to put dual-eligibles into managed care plans. They have won support from the National Association of Medicaid Directors and officials within the insurance industry.
Emory University professor Ken Thorpe, in a report sponsored by America's Health Insurance Plans, said up to $125 billion could be saved if all dual-eligibles were placed in managed care.
"Once you get them into an integrated system where everybody's working together, as opposed to a body part by body part style of managing it, then you can improve care and reduce costs," AHIP President Karen Ignagni said in an interview.
Democrats and some healthcare advocacy groups say they are wary of forcing people into managed care plans overseen by a private insurance industry that has reaped billions in profits without necessarily improving care or reducing costs.
They want to protect benefits and choice for people who want to stay in traditional fee-for-service Medicare.
"We need to find ways to reduce the cost of healthcare, not just cut the benefits that seniors paid for," said Democratic super committee member Representative Xavier Becerra.
Because Medicare and Medicaid cover different medical services, care can be fragmented with little checking up on patients to ensure they are following medical advice and taking prescribed medicines. Studies have shown that hospital readmissions among this group are high. Many end up in nursing homes, which are covered by Medicaid.
Doctors are also fighting a move to lower their reimbursement rates according to Medicaid's standards for this group, and warn more patients may just be shut out of physicians' offices.
"Medicaid rates are going so low … that we sort of live in denial that just because someone is on Medicaid, they are going to be adequately covered," said Ted Okan, executive director of the Community Oncology Alliance.
The complexity of these plans also works against a deep change and it takes time to rewrite federal laws, especially when it comes to healthcare. The super committee has until November 23 to come up with $1.2 trillion in 10-year budget savings.
Ignagni said the super committee could include proposals to reduce Washington's bureaucratic hurdles for states that want to shift more people into managed care plans.
"The super committee could put a wind at the backs of regulators," Ignagni said adding that regulators are already moving into the direction of more coordinated and managed care for this population. Only about 100,000 of the 9 million dual-eligibles currently are in managed care plans, she said.
WASHINGTON (Reuters) – By Donna Smith(Reporting by Donna Smith; Editing by Michele Gershberg and Jackie Frank)