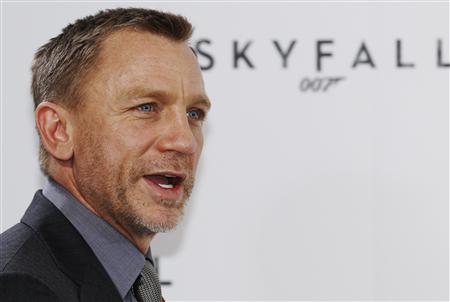 Daniel Craig
returns as British secret agent James Bond in "Skyfall" the 23rd installment in one of the world's longest-running and most successful film franchises.Director
Sam Mendes
assured fans that Bond's latest adventure would adhere to the high octane formula that has made the films an enduring genre since
Sean Connery
first played the suave agent licensed to kill nearly 50 years ago in "Dr. No."
"It, I think, has all the elements of a classic Bond movie, including, to quell any rumors, a lot of action," Mendes told reporters at the launch of the film in London on Thursday.
Spanish actor Javier Bardem will play the villain and Judi Dench returns as Bond's stern boss "M" in a cast that will also include Ralph Fiennes, Albert Finney, French actress Berenice Marlohe and Britain's Naomie Harris.
In keeping with Bond's globe-trotting legacy, the film has been shot in London, Shanghai, Istanbul and Scotland.
Sony Pictures, a unit of Sony Corp, will distribute the film, which is set to hit British theatres on October 26, 2012 and U.S. cinemas on November 9 after a studio bankruptcy put production on hold for months and the last movie earned mixed reviews.
Next year is the 50th anniversary of the series, which began in 1962 with Sean Connery on Her Majesty's secret service in "Dr. No."
Debt-laden Metro-Goldwyn-Mayer Studios Inc, known for its roaring lion logo and behind some of Hollywood's most fabled films including "The Wizard of Oz," filed for bankruptcy in November last year.
Two months later it confirmed Bond 23 would hit theatres in November, 2012, and in April MGM and Sony announced they would co-finance and distribute the next two Bond movies.
The studios previously partnered on "Quantum of Solace" and Craig's 2006 Bond debut "Casino Royale."
The films are expensive to make and market, with Quantum of Solace estimated to have cost around $200 million.
But they have a good record commercially, and according to movie tracking website boxofficemojo.com, Casino Royale earned $594 million in global ticket sales and Quantum of Solace $586 million.
Craig's first appearance as Bond was hailed as a refreshing change in direction toward a tougher, more serious 007, and reviews were overwhelmingly positive.
Quantum of Solace fared less well with the critics, although positive reviews still outweighed the negative.
LONDON (Reuters) – By Mike Collett-White(Reporting by Mike Collett-White, editing by Paul Casciato)