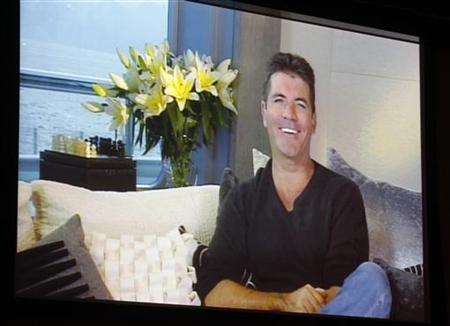 Simon Cowell's new talent show "The X Factor" will return for a second season on television, Fox said on Wednesday, calling the show a "monumental success".
Launched in September after almost a year of hype, "The X Factor" is watched by about 13 million viewers per episode. That's about half the audience of established TV singing contest "American Idol", also on Fox, which remains the most-watched show on U.S. television.
But it is the top TV reality series in the fall season among the 18-49 age group most-prized by advertisers.
Fox reality programing chief Mike Darnell said the show, which offers an unprecedented $5 million prize and recording contract to a winner to be chosen in December, was "a monumental success."
"Picking it up is a complete no-brainer. Simon and his team have done an incredible job with the show, and I'm absolutely thrilled to bring back 'The X Factor' for another fantastic season," Darnell said in a statement.
Cowell, the show's acerbic British judge, creator, and executive producer, said he was "absolutely thrilled with the news."
The singing contest is about halfway through its first season, with 12 acts selected by the four judges from tens of thousands of nationwide auditions. The public gets its first chance to vote on Wednesday after watching the 12 perform live.
LOS ANGELES (Reuters) – (Reporting by Jill Serjeant; editing by Chris Michaud)