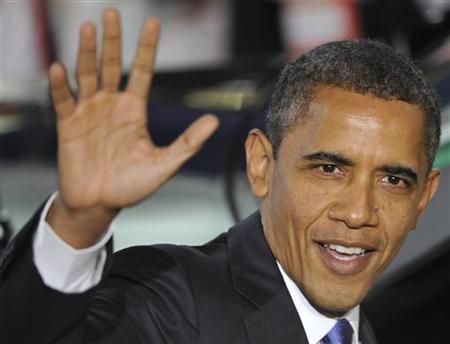 The longer the Republican presidential hopefuls battle over sexual harassment claims against
Herman Cain
, the better things look for President
Barack Obama
as he mounts his campaign for re-election.Cain has been accused by at least three women of sexual harassment when he was head of the
National Restaurant Association
in the mid-1990s, claims that have been front and center in the Republican nomination race since the news website Politico reported them on Sunday.
The rare instance of infighting in a party known for its unity comes just as Obama, a Democrat, is gaining some traction in opinion polls and the economy is showing signs of improvement.
"Obviously Team Obama wants the Republican field as large as possible for as long as possible," Republican strategist Ford O'Connell said. "The more they duke it out, the more ammo Team Obama has going into the general election."
Cain said he is innocent of the claims and accused rival Rick Perry's camp of being behind the story, which Perry has denied.
The disputes between the Republicans come as opinion polls show voters are responding well to Obama's push for his jobs bill. A poll from Quinnipiac University this week showed that 47 percent of Americans approve of Obama's job performance, up six percentage points from early October.
There have also been signs that the U.S. economic recovery, expected to be the most important issue in the 2012 election, is on track. On Wednesday, data showed U.S. private employers added more jobs than expected last month, and Friday's monthly unemployment report showed that the U.S. jobless rate ticked downward to 9 percent from September's 9.1 percent rate.
All of this is good for the Democrats, who have wisely stayed out of the controversy, keeping their campaign attacks on Romney, whom Cain replaced at the top of most polls.
"It's clouding the Republican message right now, so that's got to be good news for Democrats and they are quite wisely being very quiet about it," said David Yepsen, director of the Paul Simon Public Policy Institute at Southern Illinois University.
"Napoleon I think said you never interfere with an enemy in the act of destroying himself."
WEAKENING CAIN
The furor has weakened the 65-year-old businessman Cain, who leads in polls of Republicans nationally and in Iowa, which holds the first nominating contest of 2012 on January 3. Cain has given conflicting accounts of whether the women received settlements, and shouted at reporters who demanded answers.
"It's devastating," said Democratic strategist Greg Haas, although he cautioned that Obama's team would not want the Republican field to narrow too quickly. "Our side has to watch and see that they don't create a situation where they end it fast."
The controversy is already an unwelcome distraction from efforts to find one strong contender to oppose Obama, two months before voting starts in the nomination process.
And longer term, it makes the Republicans look bad, while they should be preserving resources to battle Obama.
"The Republicans are trying to avoid a personal, protracted, difficult fight for the nomination. And this seems to be something that's pouring fuel on a smoldering fire inside the party," said Christopher Arterton, a professor at George Washington University who has been a Democratic consultant.
Cain's campaign said his supporters have rallied to his cause, giving him $1 million in donations as the controversy has raged. If his supporters remain convinced that Cain was treated poorly, and stay home during the general election, it could benefit Obama.
Cain is a favorite of the party's conservative Tea Party wing, which has not embraced Mitt Romney, the former governor of liberal Massachusetts whose conservative credentials are questioned by fiscal and social conservatives.
Arterton said Cain's supporters could decide not to vote or even back him in a third-party campaign if things stay ugly. "If Cain's polls go down and his people get very bitter about this, I think you could see the possibility of their deciding that they would mount a campaign in the fall," he said.
WASHINGTON (Reuters) – By Patricia Zengerle(Editing by Alistair Bell and Vicki Allen)