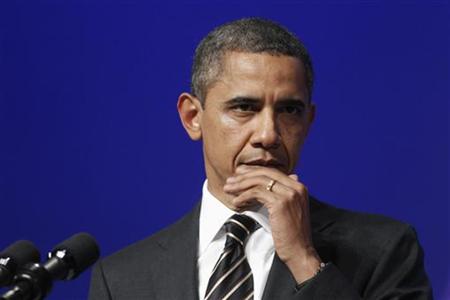 President
Barack Obama
's efforts next week to persuade
Asia-Pacific
leaders of his commitment to the region may be undercut by distractions in
Washington
, where budget fights may come to a head while he is away.Obama embarks on a nine-day trip to
Hawaii
,
Australia
and
Indonesia
on Friday that he will use to highlight U.S.-Asian economic ties and the long-standing U.S. role in the region's security. 
His absence from Washington will coincide with a deadline for Congress to avoid a government shutdown and a pivotal stretch of deficit-cutting negotiations that investors and credit rating agencies will be watching closely.
White House officials said Obama has diplomatic goals he hopes to advance at the Asia-Pacific Economic Cooperation summit that he will host in Honolulu on November 12-13 and during his visits to Canberra, Darwin and Bali.
But there is speculation he could face pressure to cut the trip short to rush back to Washington for the budget crunch-time and to avoid criticism that he failed to step up if the negotiations start to go off track.
"There is pressure here not to do the trip," said Ernest Bower of the Center for Strategic and International Studies in Washington, who said Obama was facing the political reality that "it's always better to be in Indiana than Indonesia."
Obama twice had to cancel plans to travel to Australia and Indonesia in 2010, the first time because the negotiations over his signature health care bill were at a critical stage and the second time because of the oil spill on the U.S. Gulf Coast.
He ultimately did visit Indonesia later in 2010 but the trip this month to Australia will be his first as president.
'VERY LONG TRIP'
Since he is hosting the APEC summit, there is no talk of Obama cutting the Hawaii part of the trip short. The White House plans to emphasize Obama's economic message in Honolulu where he will tout his export strategy and the recent approval by Congress of a free-trade agreement with South Korea.
But Michael Green, who advised Obama's predecessor George W. Bush on Asia policy, said it may be harder to justify the Australia and Indonesia stops at such a critical juncture for U.S. budget negotiations and as the 2012 election battle gathers steam.
In Bali at the East Asia Summit on November 18-19, Obama will become the first U.S. president to participate in that gathering of leaders from the economically dynamic and strategically important region. His visit to Australia is aimed at underscoring security ties with a staunch ally and thanking the country for its support in Afghanistan.
"It's a very long trip considering that we're already into the 2012 presidential cycle," Green said. "I suspect the domestic political advisers are very worried about being away that long and will compensate by emphasizing jobs and exports as much as possible."
White House officials said there is no conflict between
Obama's roles.
"He is, as president of the United States, obligated to travel around the world and represent American interests abroad at these gatherings," White House spokesman Jay Carney said. "It is also true that he is fully capable, wherever he is, of exercising his authority and engaging with his staff here, with the administration, with members of Congress from abroad."
While Obama is in Hawaii and later overseas, Vice President Joe Biden and other officials will reach out to Congress as lawmakers seek a deal to provide fresh funds to the government when the latest temporary funding measure runs out on November 18.
White House officials are also expected to engage behind the scenes on Obama's behalf with the 12-member congressional panel tasked with finding ways to save at least $1.2 trillion from budgets over the next decade.
The president gave the "super committee" on deficits his proposals in September but has not since worked directly with the bipartisan group, whose report is due by November 23, a few days after he returns from Asia.
The panel has struggled to bridge the differences between Republicans and Democrats. If their negotiations stall or fail while he is away, Obama could face tough questions about why he did not do more to help broker an agreement.
Under a deal struck in August after a fractious fight to raise the U.S. debt ceiling, Congress needs to accept the super committee's proposals by December 23 or there will be sharp cuts to military, social service and other budgets.
Republicans have accused the president of already turning his back on Congress, focusing on the 2012 election and pushing through executive actions instead of working with lawmakers on jobs and other issues.
"While he was involved in the spending and debt limit talks, the president has completely removed himself this time around," said Brendan Buck, a spokesman for Republican House Speaker John Boehner.
Whether or not Obama sticks to his trip itinerary, Washington's budget skirmishes are likely to be a topic of discussion on the sidelines of both the Honolulu and Bali summits.
"Everybody will be watching back here what's happening with the super committee at the same time they're talking to the president," Green said.
WASHINGTON (Reuters) – By Laura MacInnis(Additional reporting by Caren Bohan and Donna Smith; Editing by Cynthia Osterman)