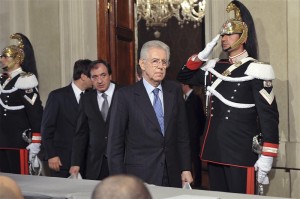 Former European Commissioner
Mario Monti
worked on Monday to form a new government replacing
Silvio Berlusconi
that will try to reverse a disastrous collapse of market confidence in
Italy
.Monti began talks with political parties before separate meetings with trade unions and employers on Tuesday, as he rushes to appoint what is expected to be a relatively small cabinet made up of technocrats from outside parliament.
Monti went to work after a frenetic weekend of political activity, in which Italy's parliament approved a package of economic reforms agreed with European leaders, Berlusconi resigned and President Giorgio Napolitano appointed the respected international figure as head of a new government.
"Monti spoke about a significant program with many sacrifices," Francesco Nucara, a lawmaker from one of the myriad tiny parliamentary groups involved in the talks, said after meeting the prime minister designate.
The speaker of the lower house, Gianfranco Fini, said he expected Monti to seek a confidence vote in parliament to confirm support for his new government by Friday.
After a tumultuous week, when Italy's borrowing costs rose to the kind of levels that saw Ireland and Greece forced to seek an international bailout, initial market reaction was positive on Monday, with both stocks and bond markets lifted.
But in a sign of the fragile state of the markets, the trend was reversed after an auction of 5-year bonds forced the Treasury to pay a record yield of 6.29 percent, up nearly a full percentage point from the last auction in mid October.
By the early afternoon, the risk premium on Italian bonds over their benchmark German equivalent was up to 482 basis points, underlining the threat that still hangs over Rome.
Napolitano called for an extraordinary national effort to support Monti and win back the confidence of international markets, noting that Italy had to refinance some 200 billion euros of bonds by the end of April.
But once the initial boost from his appointment has passed, Monti will face a major challenge navigating the treacherous waters of Italian politics with clear signs of mistrust already emerging from the center right.
"It doesn't end here" read a headline in Libero, a fiercely pro-Berlusconi daily which said that "the Left and its newspapers may have uncorked the champagne too early."
UNPOPULAR MEASURES
Monti, a convinced free marketeer with a record of successfully taking on powerful corporate interests during his decade in Brussels, is expected to outline a policy program in line with demands made by Italy's European partners.
"It's very important that this government takes shape quickly and starts work immediately with fundamental reforms to return to growth and balance the budget," Emma Marcegaglia, head of the Confindustria business lobby, told reporters.
Monti has spoken frequently of his support for controlling public finances and for pro-market policies such as boosting competition, opening up closed professions and lowering the tax burden on employment.
However pushing though painful reforms such as raising the retirement age for those on so-called full-service or seniority pensions and loosening job protection measures will test the extent of the non-elected government's support both in parliament and outside.
Other possible measures such as imposing a wealth tax on privately owned assets including first homes also risk strong opposition from the right.
The next election is not due until 2013 but there are widespread predictions Monti will not last until then, making way for polls once he passes the reforms promised to Europe.
Top European Union officials and German Chancellor Angela Merkel welcomed signs of an end to the weeks of uncertainty, with Merkel saying the approval of a reform package in parliament on Saturday was "heartening."
Monti could visit either France or Germany to meet Merkel and French President Nicolas Sarkozy within a week of a new government being in place, according to one person close to the situation.
The European Union will continue monitoring measures taken in Rome and Monti will need to secure the support of Sarkozy and Merkel, both of whom were openly exasperated with Berlusconi's repeated unfulfilled promises of reform.
ROME (Reuters) – By Giuseppe Fonte(Additional reporting by Steve Scherer; writing by James Mackenzie; editing by Barry Moody)