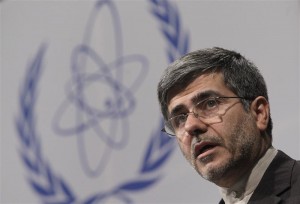 The
United States
, Britain and
Canada
on Monday announced new sanctions on Iran's energy and financial sectors, steps analysts said may raise pressure on
Tehran
but were unlikely to halt its nuclear program.The
United States
named Iran as an area of "primary money laundering concern," a step designed to dissuade non-U.S. banks from dealing with it; blacklisted 11 entities suspected of aiding its nuclear programs; and expanded sanctions to target companies that aid its oil and petrochemical industries.
The United States stopped short, however, of targeting Iran's central bank, a step that could have cut it off from the global financial system, sent oil prices skyrocketing and jeopardized U.S. and European economic recovery.
In a coordinated action, Britain ordered all British financial institutions to stop doing business with their Iranian counterparts, including the Iranian central bank. A source familiar with the sanctions said the steps would not directly target trade in Iranian oil.
Canada said it would ban the export of all goods used in Iran's petrochemical, oil and gas industry and "block virtually all transactions with Iran," including with its central bank, with an exception for Iranian-Canadians to send money home.
While not taking concrete actions, France urged European Union and other nations to immediately freeze the assets of Iran's central bank and to suspend purchases of Iranian oil, steps it called "sanctions on an unprecedented scale."
The series of announcements were in response to a November 8 International Atomic Energy Agency report that presented intelligence suggesting Iran had worked on designing an atomic bomb and may still be secretly carrying out related research.
That report, calls by U.S. lawmakers to sanction Iran's central bank and media speculation about a possible Israeli military strike against Iran's nuclear sites have pushed the Obama administration to seek tougher sanctions against Tehran.
NOT THE STRAW THAT BREAKS THE CAMEL'S BACK
Analysts said they did not believe the steps would dissuade Iran from pursuing its nuclear program, which Washington and its allies suspect is a cover for seeking nuclear arms. Iran says its nuclear work is entirely peaceful.
"Is this the straw that will break the camel's back? No," said George Perkovich, director of the Nuclear Policy Program at the Carnegie Endowment for International Peace, a Washington think tank.
The range of unilateral steps planned by Western powers reflects the difficulty of persuading Russia and China not to veto further measures at the U.N. Security Council, where they have supported four previous sanctions resolutions.
The U.S. decision to name Iran as a money laundering concern has no direct effect – U.S. banks are already barred from transactions with Iranian financial institutions – and seems more a warning about the risks of dealing with Iran.
U.S. Treasury Secretary Timothy Geithner said any bank that deals with Iran's central bank or other financial institutions runs the risk of supporting Iran's "illicit activities" such as its alleged pursuit of nuclear weapons, support for terrorism and efforts to evade sanctions.
"Any and every financial transaction with Iran poses grave risk of supporting those activities, so financial institutions around the world should think hard about the risks of doing business with Iran," Geithner said in a joint appearance with U.S. Secretary of State Hillary Clinton to announce the steps.
While the United States already seeks to prevent non-U.S. companies from large-scale investment in Iran's energy sector, the sanctions announced on Monday would also target companies providing goods, services and technology for such activities.
Separately, diplomats said EU governments could reach a preliminary deal on Tuesday to add about 190 Iranian people and entities to a list of those targeted by asset freezes and travel bans.
The new EU measures will likely aim at industries such as shipping and will be formalized at a meeting of EU foreign ministers on December 1, but discussions on possible further steps could take place in the coming days, diplomats said.
'SANCTIONS ARE A LOSE-LOSE GAME'
U.S. sanctions have already made it extremely difficult for many global oil companies and traders to obtain bank financing to trade Iranian crude, of which less than a third goes to Europe with the rest flowing to China and India.
In Tehran, Trade Minister Mehdi Ghazanfari said sanctions were hitting the Iranian economy but warned Western countries they were harming their own interests.
"Sanctions are a lose-lose game in which both sides make a loss. If they don't invest in our oil projects, they will lose an appealing market," Ghazanfari told a news conference before the British and U.S. announcements.
Iranian President Mahmoud Ahmadinejad has often said sanctions have little effect and in some cases make the economy stronger by making Iran find domestic solutions to challenges.
Ghazanfari reiterated that Iran had found alternatives to Western imports and investments but did not deny the downside.
"Facing hardship in a fight is inevitable. I admit projects will get harder as our trading costs will go up, delays will hit projects and money transfer will get harder," he said.

WASHINGTON (Reuters) – By Arshad Mohammed and Glenn Somerville(Additional reporting by Fiona Shaikh in London; Ramin Mostafavi in Tehran; Peter Apps, Yeganeh Torbati and Dmitry Zhdannikov in London; David Ljunggren in Ottawa; Leigh Thomas in Paris; Justyna Pawlak in Brussels; and David Lawder in Washington; writing by David Stamp, Jon Hemming and Arshad Mohammed; editing by Janet Lawrence and Mohammad Zargham)