Child molestation charges against a former Penn State coach have sparked an unprecedented awareness of sexual abuse marked by a sharp upturn in calls to abuse hotlines and lawyers, attorneys and counselors said on Wednesday.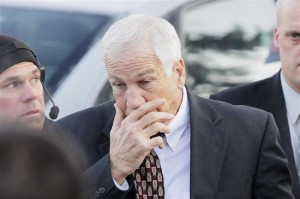 More allegations of sexual abuse and a growing number of lawsuits are likely in coming months as victims are emboldened to speak out by the blaze of publicity about
Jerry Sandusky
, the former Penn State assistant football coach, and other alleged molesters, they said.
"It's a watershed moment for child sex abuse victims, and I cringe as I say that because too often we equate public awareness with reform," said David Clohessy, a spokesman for the Survivors Network of those Abused by Priests, a support group.
The Sandusky case had one of its highest-profile ripple effects on Tuesday. Sports columnist Bill Conlin abruptly retired from the Philadelphia Daily News after a rival paper published a report accusing him of child sexual abuse.
A man and three women, including Conlin's niece, alleged he molested them as children. The niece said she and the others decided to speak out when reports about Sandusky awakened painful memories.
Conlin was "floored" by the story, his lawyer said.
"There have definitely been a lot more (abuse) survivors coming out that were triggered by Sandusky," said Marci Hamilton, one of the lawyers who filed the first civil suit against the former coach, Penn State and the Second Mile, a charity Sandusky founded.
MORE HOTLINE HELP
Sandusky, 67, faces 52 counts of sexually abusing 10 boys he met through the Second Mile. In the wake of the Sandusky charges, allegations of sexual abuse have been made against a Syracuse assistant basketball coach, a former Citadel student and the head of the Amateur Athletic Union.
Jennifer Marsh, hotline director at the Rape, Abuse and Incest National Network, said she had had to add more counselors to handle the growing call load. Online text contacts, which guarantee more anonymity, have rocketed 54 percent.
Many callers mention Penn State and Syracuse and they often seek advice on how to report potential molesters or stop abuse, Marsh said.
"We haven't seen anything like this before in terms of response on the hotlines," she said.
Calls to the Childhelp national child sexual abuse hotline are up about 20 percent since charges were filed against Sandusky at the start of November, said Michelle Fingerman, the hotline's director.
Calls by adults who were victimized as children are up by almost a third, she said.
"We're just picking up the phone more often, and the calls are longer. They are really more intense," Fingerman said.
"FOOTBALL IS PART OF AMERICA"
The National Crime Victim Bar Association, which helps crime victims with civil suits, has seen a tripling of calls on child sexual abuse since the Sandusky case broke, said director Jeff Dion.
He and Hamilton, the lawyer, said they expected to see an upsurge in child sexual abuse civil cases. The number will depend on statutes of limitations, which in most states expire generally by the time the victims are in their early 20s.
The Sandusky case had had a much bigger impact with sexual abuse victims than the scandal involving Catholic priests since Sandusky had been a well-respected coach at a high-profile college program, Childhelp's Fingerman said.
"Football is part of America, really, and people are seeing that this can happen in any type of situation. It's not a certain demographic or socioeconomic class," she said.
By Ian Simpson
WASHINGTON (Reuters) – (Reporting By Ian Simpson; Editing by Jerry Norton)