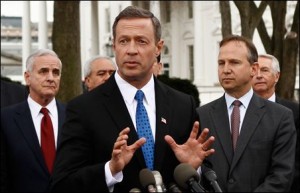 Maryland Governor Martin O'Malley urged lawmakers in unusual personal testimony before a legislative committee on Tuesday to approve same-sex marriage in the state, calling it a sign of "equal respect for the freedom of all."
The measure before the state Senate would make Maryland the seventh state, along with the District of Columbia, to legalize gay marriage. O'Malley, a Democrat, faces a rift inside his party over same-sex nuptials that mirrors public sentiment.
"The very reason for our state's founding was for religious freedom. At the heart of religious freedom is respect for the freedom of individual conscience," O'Malley told the Senate Judicial Hearings Committee, referring to Maryland's origins as a haven for English Catholics.
"The way forward, the way to sustain and enhance our common life together, is equal respect for the freedom of all," he said in unusual personal testimony that underscored the importance he attaches to the measure.
O'Malley is the latest of several Democratic governors to lead the fight for same sex marriage.
New York Governor Andrew Cuomo championed legalization of same sex marriage last year and personally shepherded the bill to a narrow victory, making New York state the most populous state to endorse gay nuptials.
Washington state governor Christine Gregoire earlier this month publicly called for the legislature to approve same sex marriage, and supporters say they have the votes to pass it. The Washington state Senate is scheduled to vote on Wednesday.
O'Malley's remarks were posted on his website and a spokeswoman confirmed them. She said votes in the heavily Democratic General Assembly were weeks away.
The measure would allow same sex marriages between gay and lesbian couples. Religious institutions would not have to perform same-sex marriages.
A same-sex marriage bill narrowly passed the Senate last year but fell short in the House of Delegates, where some black Democrats balked.
A Washington Post poll published on Tuesday showed that 50 percent of Maryland residents supported legalization of same-sex marriage, while 44 percent were opposed.
The level of support in Maryland is the highest ever in a Post poll, and is in line with the rest of the country, the newspaper said.
Maryland Democrats are sharply divided by race on the issue. Among whites, 71 percent back same-sex unions, while 41 percent of blacks support it, the poll showed.
One other state where same sex marriage is an issue is New Jersey, where the Democrat-controlled legislature wants to legalize it, while Republican Governor Chris Christie has said he would veto such legislation.
WASHINGTON (Reuters) – (Reporting By Ian Simpson; Editing by Greg McCune)