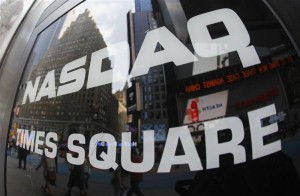 The
S&P 500
index hit 1,400 for the first time in four years on Thursday as a strong run of economic data continues to cement a strong uptrend in equity markets.Shares in
Apple
Inc hit a new all time high above $600 in early trading, with some analysts predicting the stock will move to $700 within 12 months.
Trading was volatile at the start of "quadruple witching", the expiration and settlement of four types of equity futures and options contracts.
" is important because of the trend, it confirms the upward bias in the market," said Peter Kenny, managing director at Knight Capital in Jersey City, New Jersey. "There is a built in momentum trend as a result of the economic data."
1,400 marks the highest level for the S&P 500 since June 2008.
Labor Department data showed new claims for unemployment benefits fell back to a four-year low last week, and producer prices, excluding food and energy, were contained.
The Dow Jones industrial average <.DJI> rose 34.51 points, or 0.26 percent, to 13,228.61. The S&P 500 Index <.SPX> added 6.84 points, or 0.49 percent, to 1,401.12. The Nasdaq Composite <.IXIC> gained 15.43 points, or 0.51 percent, to 3,056.16.
The S&P 500 snapped a five-day winning streak on Wednesday after advancing nearly 4.0 percent during the run, as investors found little reason to extend a rally that took the benchmark index to four-year highs. But the index is up over 2 percent this week, its best since early February.
Manufacturing data in New York and the U.S. mid-Atlantic region also improved, according to regional Federal Reserve surveys.
Apple stock hit a new all-time high at $600.01, up nearly 2.0 percent from the previous day's close and up nearly 60 percent since mid-December.
The stock has been more volatile recently and on Thursday traded in a wide range between a fall of 0.9 percent and a rise of 1.8 percent. The stock last traded up 0.2 percent at $591.19.
The CBOE Apple VIX index <.VXAPL>, which tracks options on Apple's stock, leapt over 12 percent on Thursday and is up 70 percent over the last two days, hitting its highest since November – a possible indicator of more volatility ahead.
Helping transport stocks but hurting energy companies was news that Britain will cooperate with the United States in a bilateral agreement to release strategic oil stocks in an effort to prevent high fuel prices derailing economic growth in a U.S. election year, according to two British sources.
U.S. crude futures fell after the news and traded down 0.5 percent at $104.91. The Dow transport index <.DJT> rose 2.3 percent, while the S&P energy index traded flat.
Semiconductors moved higher, led by Advanced Micro Devices Inc , which jumped 6.2 percent to $8.24 after Jefferies upgraded the stock to a "buy" rating. The Philadelphia Semiconductor Index <.SOX> gained 1.8 percent.
Ross Stores Inc reported a higher profit for the holiday quarter as shoppers sought out popular clothing brands at discount prices, and the off-price chain forecast "respectable" sales and profit gains for this fiscal year. Shares dropped 0.5 percent to $55.26. The Morgan Stanley retail index <.MVR> lost 0.5 percent.
Three initial public offerings made their debuts on Thursday: cloud computing-based software company Demandware Inc , analog chipmaker M/A-Com Technology Solutions Holdings and Allison Transmission Holdings .
Demandware surged 52.5 percent to $24.40, M/A-Com advanced 9.6 percent to $20.69 and Allison Transmission rose 1.9 percent to $23.44.
By Edward Krudy
NEW YORK (Reuters) – (Editing by Theodore d'Afflisio)