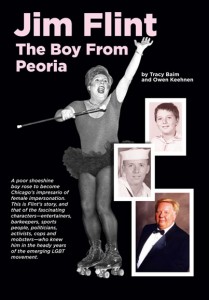 "Jim Flint: The Boy from Peoria" (Prairie Avenue Productions) is the second biography of a Chicago LGBT community icon by Windy City authors Tracy Baim and Owen Keehnen.  ("Leatherman: The Legend of Chuck Renslow" was the first.)   Best known for his drag persona Felicia, the baton-twirling, roller-skating "queen" of Chicago, Flint opened in 1969 the world-famous Baton Show Lounge, to this day one of the leading female impersonator clubs in the world.  Flint also owned the Redoubt gay leather bar, headed the Chicago Knights motorcycle club, founded the Windy City Athletic Association and ran (1987) for the Cook County Board of Commissioners as an openly gay candidate.
Outside of Chicago, Jim Flint is best known as the founder of the Continental Pageant System.  Started as a "hobby", the System crowned the first Miss Continental (Chilli Pepper) in Chicago on Labor Day Weekend, 1980.  Since then it has grown to become "the ultimate female impersonation pageantry system in the world," honoring such stars as Tiffany Arieagus (1982), Amber Richards (1991) and Candis Cayne (2001).   Now more than three decades old, the Continental Pageant System has gone beyond Miss Continental to include Mr. Continental as well as Elite and Plus competitions.  Preliminaries are held all over the country including Florida, which held its Mr. and Miss State of Florida Continental Pageant in Fort Lauderdale on February 19.
Like Renslow, Flint is a larger than life personality, whose biography also serves as a social history of Chicago's queer community.   This was deliberate on the part of the authors:  "Every city has people who are critical parts of their community, but if they are not as well known nationally, it's difficult to get an entire book done on just one person," Baim says.  "We tried to place their stories within the overall context of the local and national LGBT movement, to show their importance."  Both the Renslow and Flint books run over 500 pages each, which seem to make them too much of a good thing.  But Baim and Keehnen reject the suggestion that their books would have been improved by cutting them down in size.  As Keehnen put it, "in telling both these stories a larger story is being told.  They are biographies yes, but they are also stories of eras, struggles and movements in the LGBT community in Chicago and beyond. It was an opportunity to capture a larger history.  With Jim that story includes the trans world, gay sports world, political world, activist world, bar culture, pageantry world, etc."
Though, as one of Chicago's leading LGBT journalists, Baim "covered Jim and his events and businesses for 27 years, I really never knew much about him, so the book really helped me understand him much better."  Keehnen, her co-author, only "knew Jim peripherally. I'd seen him at many functions and at the Baton. However, the longest conversation I had with him was when he was interviewed for 'Leatherman.'  So working with Tracy on this book really opened my eyes to just how much this man has contributed."  Writing "The Boy from Peoria," like reading it, was a learning experience.
Flint, Keehnen continues, "has made a large number of contributions, but for me I think his greatest has been taking female impersonation and elevating that field into an art form. He made it something more professional and polished.  He's helped create careers for a lot of performers when before he came on the scene, there were mostly gigs. He did that through the Baton as well as through the exposure and bookings from the Continental Pageant System."  "Starting Miss Continental, and before that his Halloween balls, were both important institutions," Baim adds.  "He ran for office in the mid 1980s at a time when few out LGBT people did so. He also participated in politics, non-profits and sports organization in leadership ways. He really impacted quite a range of our various LGBT community elements."
Is there another Chicago legend on the horizon?  According to Keehnen, he and Baim are currently working on a biography of activist Vernita Gray, whose life (like Renslow's and Flint's) encompasses Chicago's LGBT community history for half a century.  "Vernita's story covers a lot of ground and provides a platform for telling a more expansive story. It's really fascinating to explore this history and such a privilege to chronicle another amazing life."  We can hardly wait.
by Jesse Monteagudo