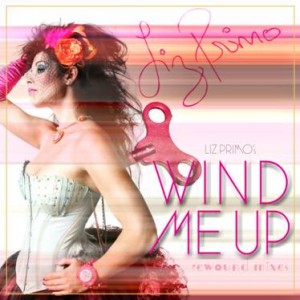 Liz Primo, the brightest rising star on the dance music scene,  will release her new single "Wind Me Up," the hot new follow-up to her dance club hit "State of Amazing," both from the debut EP Exposed (444 Records) on March 20th.  DJ Dark Intensity's dubstep/house mix is the focus track from a remix package titled Rewound Mixes. The CD also features mixes from Haydn Hoffman, Michael Bradford, and Justin Trugman. Liz's music is fun, energetic and can be heard in dance clubs across the country.
"'Wind Me Up' is the ultimate club song. It's a sexy, steamy, love story!!! (or a lust story! LOL)", says Liz about the song she co-wrote with Justin Trugman.  Liz co-wrote all of the songs on the Exposed EP, produced by Rob Fusari (Lady Gaga) and Trugman (Eminem, Nelly, etc.).
Liz recently shot the video for "Wind Me Up"  with famed video director Afshin, who has worked with such artists as Prince, Rob Thomas, and Bare Naked Ladies.  The video features Liz Primo's signature flair for dramatic make-up, costumes, and locations. The voyeuristic video captures Liz as she "wind-ups" the object of her desire set against a retro cinematic backdrop.
[youtube OvAFManU1tM&feature=youtu.be]
To celebrate the release of "Wind Me Up," Liz will perform at the Winter Music Conference in Miami on March 23rd at Score as part of the Fly-Life Showcase.  In addition, Liz will perform the following dates in Florida:
•         March 16th  – Parliament House in Orlando.
•         March 17th – G Bar in Tampa.
Liz will also be appearing at the world famous White Party in Palm Springs, CAÂ  at the Splash! Pool Party taking place at the Renaissance Palm Springs Hotel on Sunday, April 8th at 2pm.
Liz Primo's passion and desire as an artist is fueled by powerful vocals, energy and freedom of expression in her live performance.  Discover what happens when raw talent and creative forces collide and don't miss the opportunity to experience her Exposed.