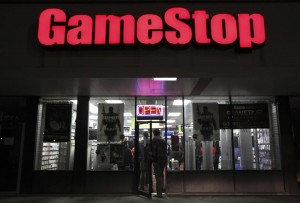 GameStop Corp gave a stronger fiscal-year outlook than some analysts expected as the retailer expects to generate more sales from used videogames and benefit from the release of new hardware from Nintendo Co Ltd.
The company expects earnings per share of $3.10 to $3.30 for the fiscal year, which began on January 29. Analysts on average have been expecting $3.16, according to Thomson Reuters I/B/E/S.
GameStop shares rose as high as 4.4 percent, but were up only 0.1 percent at $24.70 in late morning trading.
Chief Executive Officer Paul Raines said in an interview that GameStop had taken market share from other retailers last year and that business were looking up for this year.
"I think the market will like our outlook," he said. "Our digital growth and pre-owned and mobile growth will give us a pretty healthy earnings and margin improvement."
The company said it expected sales to rise 1 percent to 5 percent this year.
Nintendo will come out with its follow-up to the Wii console, the Wii U, for the holiday shopping season. This is the first new home console in years, and GameStop expects it to boost sales of games and hardware.
GameStop, based in Grapevine, Texas, dominates the used-game market. This helped it weather the tough economy, Raines said.
For the fourth quarter ended on January 28, GameStop's sales fell 3 percent to $3.58 billion, which missed analysts' expectations of $3.71 billion.
Net income fell to $174.7 million, or $1.27 per share, from $237.8 million, or $1.56 per share, a year earlier.
Excluding an impairment and restructuring charge of $81 million, earnings per share rose to $1.73 from $1.56.
For this year, the company forecast its operating margin would expand at least 20 basis points to a range of 7.0 percent to 7.3 percent, with capital expenditures declining 15 percent.
The retailer, which has more than 6,200 stores globally, expects to open 100 new ones and to close 150. Square footage will not increase, and will fall 1 percent in the United States.
One of GameStop's rivals, Britain's Game, has been struggling to stay afloat as large videogame publishers such as Electronic Arts have suspended some shipments. The board of Game has declared its equity shares worthless and has appointed an administrator to deal with creditors.
Raines told Reuters that unlike Game, GameStop has a "a clean balance sheet with no debt" and is focused on digital sales and the profitable used-game business.
By Liana B. Baker
(Reuters) – (Reporting By Liana B. Baker; Editing by Gerald E. McCormick and Lisa Von Ahn)