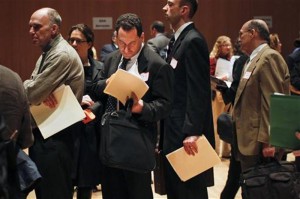 The number of Americans claiming new unemployment benefits dropped to a four-year low last week, offering further evidence the jobs market recovery was gaining traction.
Initial claims for state unemployment benefits fell 5,000 to a seasonally adjusted 348,000, the lowest level since February 2008, the Labor Department said on Thursday. Economists polled by Reuters had forecast claims rising to 354,000 last week.
A separate report showed a gauge of future U.S. economic activity rose solidly in February, pointing to strengthening growth even as China slows. Some euro zone economies are already in recession.
"The economy is entering a phase where more of the gains from growth accrue to labor rather than capital and we believe that stronger job creation will be sustained throughout 2012," said John Ryding, chief economist at RDQ Economics in New York.
The four-week moving average for new claims, considered a better measure of labor market trends, declined 1,250 to 355,000. The data covered the survey week for March nonfarm payrolls. Initial claims dropped 5,000 between the February and March survey periods, suggesting another month of solid job gains.
Employers added 227,000 jobs to their payrolls in February, taking the tally for the past three months to 734,000. The unemployment rate currently is at 8.3 percent, having dropped 0.8 percentage point since August.
The Federal Reserve has said it expects the jobless rate to "gradually" decline.
The data had little impact on U.S. financial markets as investors worried about the global economy after reports showed Chinese manufacturing slumped for a fifth month in March. Factory activity in France and Germany declined sharply this month, suggesting the euro zone was probably back in recession.
SIGNIFICANT HEADWINDS
While U.S. economic data remains relatively upbeat, analysts worry slowing global growth could hamper the domestic economy and dampen employment creation.
"With much of Europe already slipping into recession, the U.S. economy will be pushing against significant external headwinds to accelerate in the quarters ahead," said Jim Baird, chief investment Strategist at Plante Moran Financial Advisors in Kalamazoo, Michigan.
Firming labor market conditions helped to lift the Conference Board's Leading Economic Index 0.7 percent last month.
In the claims report, the number of people still receiving benefits under regular state programs after an initial week of aid fell to its lowest level since August 2008, in the week ended March 10.
Despite the improving labor market picture, long-term unemployment remains a major problem and about 43 percent of the 12.8 million out of work Americans in February had been jobless for more than six months.
A total of 7.28 million people were claiming unemployment benefits under all programs, during the week ended March 3, the latest week for which data is available, down 142,499 from the prior week.
By Lucia Mutikani
WASHINGTON (Reuters) – (Editing by Andrea Ricci)