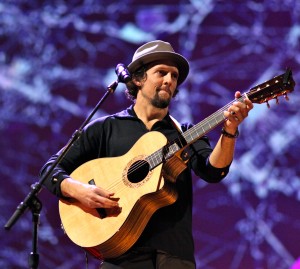 The Human Rights Campaign (HRC), the nation's largest lesbian, gay, bisexual, and transgender (LGBT) civil rights organization, launched a video ad featuring Grammy Award-winning singer-songwriter Jason Mraz for its Americans for Marriage Equality campaign.  In the ad, Mraz says "I believe that people have a right to marry the person that they love."  The video can be viewed online at www.hrc.org/marriageequality.
"Millions of Americans listen to Jason Mraz's love songs, yet not all loving relationships are treated with the same dignity and respect," said HRC President Joe Solmonese.  "Gay and lesbian couples share the same values as everyone else – love and commitment – and deserve equal treatment under the law."
Jason Mraz is a multi-Grammy Award-winning singer-songwriter as well as a dedicated surfer, cyclist, yogi and activist. Mraz has achieved a number of international Top 10 hits including the song, "I'm Yours," which captured the hearts of people across the globe, surpassing twenty-one million sales worldwide and setting a record for the longest-running song in the 51-year history of Billboard's Hot 100 chart.  His latest single, "I Won't Give Up" is shaping up to be another pop smash, debuting in the #1 slot on Billboard's "Digital Songs" chart.  "I Won't Give Up" also quickly ascended to #1 on iTunes' "Top Songs" and "Top Pop Songs" charts and topped other digital retailer charts around the world. The track is featured on his forthcoming album,  Love is a Four Letter Word, which will arrive everywhere on April 17th.  www.jasonmraz.com
[youtube gX_PhJb0VnM]
Jason lends both his voice and his music to today's video.  His new single, "I Won't Give Up" plays in the background as he speaks out in favor of marriage equality nationwide.
This is the fifteenth video released by HRC for the Americans campaign.  Past videos feature Rossana Rosado, The Rev. Al Sharpton, Lloyd Blankfein, U.S. Sen. Al Franken, Michael K. Williams, Aisha Tyler, Dee Rees and Kim Wayans, Scott Fujita, Josh Charles, Katori Hall, John Leguizamo, Julian Bond, Mo'Nique, and Mayor Cory Booker.
About 53% of the American public supports marriage for same-sex couples, according to a number of nonpartisan polls, including Gallup, CNN, and Washington Post/ABC News.
Americans for Marriage Equality is a public engagement campaign featuring prominent Americans who support committed gay and lesbian couples getting married.  The campaign draws from a cadre of supportive professional athletes, film and music celebrities, and political and civic leaders.
For more information on the campaign or to see the videos, visit www.hrc.org/marriageequality.