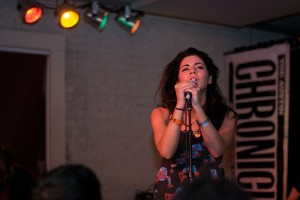 'Electra Heart' is a huge leap forward for Marina and promises to be one of the most exciting pop releases of 2012, underlining that she is amongst the most talented young British artists around. A ground-to-air missile of ambitious and confident songs, 'Electra Heart' was written and recorded in London and LA over the last 18 months whilst on tour.  Featuring 12 brand new self-written tracks, Marina handpicked a close group of collaborators to write and produce with including Dr Luke (Katy Perry), Rick Nowels (Madonna), Liam Howe (Sneaker Pimps) and Greg Kurstin (Lily Allen).
'Electra Heart' is a blisteringly honest story of identity, love, rejection, doomed romance and hope all tinged with humour and British eccentricity.
[youtube Gj5L9SYhoSE]
Marina says, "It's an Ode to dysfunctional love. I based the project around character types commonly found in love stories, film and theatre, usually ones associated with power and control in love, as opposed to weakness or defeat. I guess it was a way of dealing with the embarrassment that, for the first time in my life, I got 'played'. Rejection is a universally embarrassing topic and Electra Heart is my response to that. It is a frank album"
'Electra Heart' is the follow up to Marina's top five debut album 'The Family Jewels'.  Known for her unique and iconic look, and for her attention to every detail of her creative output, she doesn't disappoint on the artwork for 'Electra Heart'.