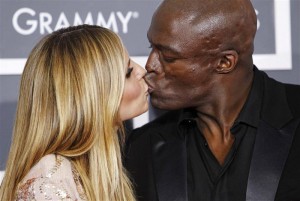 Supermodel and TV host Heidi Klum on Friday filed for divorce from her husband, the singer Seal, following the pair's separation earlier this year, representatives for the couple said.
Klum's spokeswoman declined to give further details and said the "Project Runway" television star would not be making a statement. Seal's spokeswoman also confirmed the divorce filing but offered no further comment.
Celebrity website TMZ.com said divorce papers had been filed in Los Angeles, citing irreconcilable differences.
Klum and Seal, who married in 2005 and have four children, announced in January that they had separated, issuing a joint statement that said: "While we have enjoyed seven very loving, loyal and happy years of marriage, after much soul-searching we have decided to separate.
"We have had the deepest respect for one another throughout our relationship and continue to love each other very much, but we have grown apart," the pair said at the time.
Days later, Seal appeared on a U.S. TV talk show with host Piers Morgan and left open the possibility of a reconciliation.
"You can never say never, obviously I can't speak for my wife," Seal told Morgan.
People magazine on Friday said sources told its reporters that by mid-February, a reunion clearly was not in the works.
Their breakup surprised celebrity watchers because the pair had seemed so close for many years. They released a steamy music video in September 2010 for the Grammy-winning singer's single "Secrets," which featured the naked couple in bed together.
In an interview with Reuters at the time, Seal said that he had titled his sixth album "Commitment" because that was a recurring theme for him, particularly since meeting Klum.
LOS ANGELES (Reuters) – (Reporting By Bob Tourtellotte; Editing by Stacey Joyce)