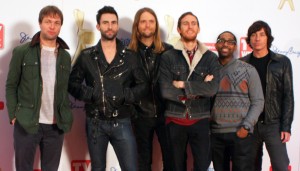 GRAMMY winning recording artist Maroon 5 have announced their highly anticipated fourth studio album Overexposed is set to debut June 26th. Recorded in Los Angeles, CA over the last year, Overexposed  is a rich, pop-infused collection featuring  10 new tracks. The album's first single 'Payphone' featuring Wiz Khalifia is available via iTunes now. The album was executive produced by Max Martin with additional tracks produced by Benny Blanco and Ryan Tedder.
Maroon 5 frontman Adam Levine said of the release, "Overexposed  is definitely our most diverse and poppiest albums yet. We had a great time recording it. I can't wait for our fans to hear the record, as well as hitting the road to play it live for everyone later this year."
Guitarist James Valentine added, " 'Moves Like Jagger' was the first time we ever worked with an outside writer, so we decided to try it some more on this record. At this point in our career I think it was a good thing to completely mix up our process and it yielded good results, as well as a more collaborative spirit within the band. We wanted to make something that sounded contemporary with the elements of a lot of early eras of pop music. This is our most "pop" record ever and we weren't shy about really going for it."
Maroon 5's musicianship and frontman Adam Levine's vocals are as distinct as ever on Overexposed, continuing to showcase the band's ability for creating songs that have become part of the fabric of pop and rock music today. Maroon 5 began writing and recording the album during their most recent world tour and the resulting collection is chock-full of undeniable, anthemic melodies. The album includes such stand out tracks as the emphatic "Payphone" featuring Wiz Khalifia, the irresistible "One More Night" and the rythmic ballad"Beautiful Goodbye."
[youtube 5FlQSQuv_mg nolink]
Capturing their first of three Grammy Awards as "Best New Artist" of 2005 and going on to sell more than 17 million albums worldwide, Maroon 5's releases have gone gold and platinum in over 35 countries. The band won over fans and critics alike with the hybrid rock/R&B sound they introduced on their debut album, Songs About Jane and their double platinum album, It Won't Be Soon Before Long, which included hits like "Makes Me Wonder" and "If I Never See Your Face Again."
In September 2010, the band released their third studio album, Hands All Over, which also recently went platinum. The collection featured two hit singles including the Hot AC smash "Misery" and the anthemic "Moves Like Jagger," which climbed to the #1 spot on the Top 40 and Hot AC charts and also claimed the #1 spot on the Billboard Hot 100. Both singles received GRAMMY Award nominations in the category of "Best Pop Performance By A Duo Or Group With Vocals," marking the group's eighth GRAMMY nomination overall and 5th in that category. With the success of "Moves Like Jagger" on the Hot 100 chart, Maroon 5 frontman Adam Levine became the first artist in the chart's 53-year history to reach #1 as part of a group and enter the Top 10 at the same time as a soloist, as he was also featured on Gym Class Heroes' "Stereo Hearts."
In addition to his work with Maroon 5, band frontman Adam Levine joined the #1 NBC hit series The Voice as a coach in 2011. Debuting after Super Bowl XLVI, the second season of The Voice kicked off with a bang, scoring a total of 37.6 million viewers, making it the highest ratings for a non-sports related show on any network in 6 years.