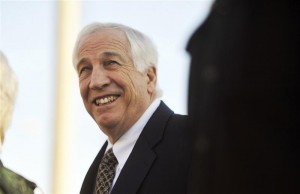 The child sex abuse trial of a former Pennsylvania State University football coach starts on Tuesday in a scandal that shook the school and its vaunted football program and opened a national dialogue on sexual predation in sports.
Jerry Sandusky, the former assistant coach, faces 52 counts of molesting 10 boys over a 15-year period. Prosecutors allege Sandusky, 68, met the boys through a charity he founded and some of the assaults occurred at Penn State facilities.
The explosive charges in November 2011 forced the firing of university President Graham Spanier and of Joe Paterno, college football's winningest coach and head of the highly respected program for 45 years. Months later, Paterno died of lung cancer at age 85.
The grand jury charges marked a watershed in awareness of child sexual abuse since Sandusky seemed to be an unlikely predator – a well-respected former coach in one of the United States' most popular and macho games, college football.
The Penn State scandal "has given us a window into the soul of our country. We have been forced to see that when it comes to child sexual abuse, we are a nation of bystanders," said Victor Vieth, executive director of the National Child Protection Training Center, which trains police and other professionals in reporting abuse.
As the Sandusky shockwave spread, sex abuse hotlines and lawyers saw an upsurge in calls and emails. [ID:nL1E7NLHDF] Allegations of sexual abuse also surfaced against a Syracuse University assistant basketball coach and a counselor at The Citadel, a military college.
"SOAP BATTLES"
Jury selection begins on Tuesday in Centre County Court of Common Pleas in Bellefonte. The trial will start on June 11 at the earliest, Judge John Cleland said last week.
Sandusky's lawyer, Joe Amendola, has repeatedly sought a delay in the trial, saying he needs more time to prepare. He asked an appeals court on Thursday for a postponement after Cleland rejected his latest request.
Prosecutors allege Sandusky had physical contact with the boys, known in court documents as Victims 1 to 10, that ranged from tickling and a "soap battle" in Penn State showers to oral and anal sex.
Sandusky spent 32 years as an assistant under Paterno before retiring after the 1999 season. He masterminded fearsome defenses and under him the school became known as "Linebacker U."
Sandusky is accused of using the Second Mile, a charity he founded in 1977, to prey on needy young boys. The charity said last month it was closing because contributions had dried up.
Sandusky has already laid out a potential defense, saying in an NBC television interview in November that he engaged in horseplay with alleged victims but stopped short of sexual intercourse or penetration.
Amendola has said one of his tactics will be to "destroy" the credibility of former graduate assistant Mike McQueary and thus raise questions about all the witnesses and victims.
A key witness, McQueary told prosecutors he saw Sandusky assaulting a boy known as Victim 2 in February 2001 in a locker room. Prosecutors originally said the assault was in 2002 but have since altered the date.
Former Athletic Director Tim Curley and former Vice President for Finance and Business Gary Schultz, who headed school police, face charges of perjury and failure to report suspected abuse for allegedly covering up the 2001 incident.
The Sandusky scandal differs from most other sexual abuse cases because there are witnesses to some of the alleged assaults, said Christopher Mallios, an adviser to AEquitas, a resource group for sex crimes prosecutors.
JURY SELECTION
The trial's launch could be pushed back from its scheduled June 11 start since picking a jury could take at least a week, possibly followed by another day or two for pre-trial motions, Mallios said.
Penn State is by far the biggest institution and employer in Centre County, set among hills and farmland in central Pennsylvania. Mallios said the area's close-knit small-town atmosphere could complicate seating a jury.
Underscoring the web of relationships in the area, all the Centre County judges have recused themselves. Cleland, the judge, is a juvenile justice expert from McKean County in northwestern Pennsylvania.
If convicted on all counts, Sandusky could be sentenced to more than 500 years in prison. He is under house arrest with a $250,000 bail.
The Sandusky case has spawned a raft of investigations as well as U.S. Senate hearings on strengthening child abuse reporting requirements.
BELLEFONTE, Pennsylvania (Reuters) – (Reporting by Ian Simpson; Editing by Barbara Goldberg and Cynthia Osterman)