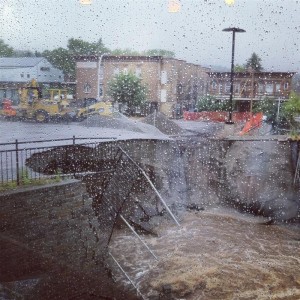 Duluth officials on Thursday estimated damage at up to $80 million just to the city's public infrastructure from the flood that swamped the northeast Minnesota city and nearby communities this week.
The flooding, which left huge sinkholes and ripped up dozens of roads, also forced hundreds of people from their homes and killed several zoo animals.
Mayor Don Ness said the flood was the worst in the history of the Lake Superior port city, surpassing a 1972 flood both in damage and rainfall, and he estimated the damage to public infrastructure at $50 to $80 million dollars.
"It has overwhelmed our storm water system. It has damaged our street system, our parks and trails have been decimated by this storm," he said.
Ness met with Minnesota Governor Mark Dayton and state officials in Duluth on Thursday to assess possible state and federal aid for flood recovery.
"It's horrific," Dayton told reporters after a tour of flood-damaged areas. "To see wipeouts of whole roads that I've been traveling on for years and the vastness of the impact here and the impact on some of the key industries, the paper mills and the taconite production is really very concerning."
There were close calls, but no deaths have been reported from the flooding caused by up to 10 inches of rain.
An 8-year-old boy playing in flood waters in Proctor, Minnesota, near Duluth was swept several blocks through a culvert, but was rescued and suffered only scrapes. Others, including Susan Towle, escaped stranded cars.
"I drove into what looked like a little puddle that ended up being a big puddle," said Towle. "Pretty soon the car stalled and water came rushing up over the hood."
Towle said she waded through four feet of water, crossed two lanes, and climbed a chain link fence, cutting both of her hands, to reach a nearby hotel and call for a ride.
THE ROAD TO RECOVERY
Dozens of roads in Duluth and the surrounding area have sustained damage or are impassable because of flood damage, some with sinkholes up to 20 feet wide, Duluth public information officer Pakou Ly said on Thursday.
Duluth and surrounding areas were gradually returning to normal on Thursday, but Ly said some parts still had standing water and a significant amount of sewage overflow could not be controlled because of the massive rainfall.
The flooding had overwhelmed neighborhoods on Duluth's steep hills and rocky cliffs, and swamped lower-lying areas when tiny creeks swelled into rivers and then spilled over their banks.
Flooding from a swollen creek killed several animals at the Lake Superior Zoo, and allowed a polar bear and two seals to escape exhibits briefly. The St. Louis River broke a record peak of 15.8 feet near Cloquet, Minnesota, set in 1950 and was expected to stay above major flood stage into next week.
The general cargo dock at the Port of Duluth-Superior, which was closed Wednesday due to concerns for worker safety, was open Thursday, said Adele Yorde, public relations manager for the Duluth Seaway Port Authority.
The Duluth-Superior port, which also has 20 privately owned and operated docks, handles shipments of commodities such as iron ore, grain and coal, heavy equipment and other materials.
State officials said Thursday about 200 residents from the Fond du Lac neighborhood in Duluth and 40 from the Thomson, Minnesota, area remained displaced.
Tina Morris, 38, said she had no friends or relatives she could stay with after she was ferried by raft from her apartment in Fond du Lac on Wednesday afternoon.
"When I was packing my backpack I thought, 'I have to be ready for anything,'" Morris said. "I don't know where I'm going. I don't know what's going to happen. I didn't see anybody cry today until I got to the shelter. We had to evacuate our homes. It's just bizarre."
By Joe Cadotte
DULUTH, Minnesota (Reuters) –  (Additional reporting by David Bailey in Minneapolis; Editing by Greg McCune and Jackie Frank)