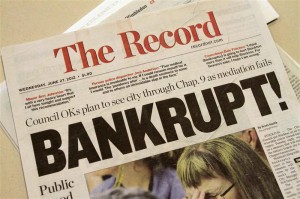 Stockton, California, is expected to file for bankruptcy before the end of the week, becoming the largest U.S. city to seek protection from its creditors.
No one in the city of nearly 300,000 is relishing the prospect, though some see no choice.
Stockton, which boomed a decade ago with workers from the San Francisco Bay area seeking affordable housing, is the most recent casualty of the housing bust of the past few years.
After failing to strike a deal with city employee unions and other creditors, Stockton's city council passed a budget after a five-hour meeting on Tuesday night. The budget calls for an end to retiree healthcare benefits a year after the city files for bankruptcy, which is expected by Friday afternoon.
Stockton busted spectacularly, and it still is swimming in foreclosures. It has been cutting city jobs for years. The cost of pensions and healthcare have overwhelmed it.
The plan for Chapter 9 bankruptcy, which includes dropping healthcare for retirees who are now fully covered, will close a $26 million deficit in Stockton's budget for its fiscal year that begins on July 1.
Former city workers, often too young to retire under stricter federal guidelines, face poor employment prospects.
Since October 2007, the last time unemployment was under 10 percent in Stockton, the city's population of job seekers has swelled by 10,000 and the number of people who are employed has decreased. Unemployment was estimated at 17.5 percent in May.
"I'm pretty much out of luck," said Patricia Hernandez, 57, who retired two years ago from her job with the city library. A cancer survivor, she is worried the disease might return.
Her diabetic husband gets dialysis worth $22,000 a month, which she does not expect to be able to afford after Stockton cuts medical coverage in a year.
Hernandez retired young, but not in luxury, and takes in about $1,700 per month. She is five years too young for early retirement in the federal Social Security program.
Stockton, like many California city and state governments, lets employees retire as early as 50 or 55. While some public pensions in the state are more than $100,000 per year, the statewide monthly average for the California Public Employees' Retirement System (Calpers), which administers Stockton's plan, is $2,332. The average Calpers retirement age is 60.
CITY NEVER SET ASIDE FUNDS FOR HEALTHCARE
Stockton never set aside funds for retirees' healthcare, so it has had no cushion as their medical costs soared. During the 1990s the city greatly expanded its generous healthcare benefits to retirees. Stockton officials say the city faces today a liability for its retiree medical program of $417 million.
Former Stockton City Manager Dwane Milnes, 66, who represented retirees in talks with the city, estimates that a majority of retired Stockton employees will not be able to pay for healthcare.
Geri Ridge, a single 56-year-old former records assistant for Stockton's police department, has told her daughter to sign up for MediCal, the state's health plan for the indigent. Ridge had counted on having healthcare coverage when she calculated that she could retire early on a pension, which is $1,895 per month.
"I expected the city to take care of me," said Ridge, who left the city's payrolls after a heart attack and will now drop her coverage.
While Stockton will cut retiree healthcare coverage, it does not plan to alter pension plans for fear of a battle with Calpers. Some taxpayers consider benefits for city employees a sweet deal.
"I was amazed by the level of benefits we received," said former city planner Denise Jefferson. "It was ridiculous."
She now works for a business improvement district and sees bankruptcy as being necessary for Stockton. "I'm thinking 'Welcome to the real world,'" she said.
"For people who say, 'You can't do this,' I say show us the pot of money," she said. "There's no money."
Standard & Poor's Ratings Services downgraded Stockton to default from selective default on Wednesday, citing the city's move toward bankruptcy and expectations that it will not substantially pay all of its obligations as they come due.
Moody's Investors Service on Wednesday cut to 'Caa3' various general fund-supported debts of the city, putting the ratings in the "substantial risk" category, one notch above the "may be in default, extremely speculative" grouping.
Moody's said its move was based on Stockton's bankruptcy budget. It suspends $10.2 million in debt payments along with cutting employee compensation and retiree benefits by $11.2 million. About $7 million in savings would come from cutting retiree medical benefits for one year and then phasing them out.
Stockton has already defaulted on about $2 million in debt since February, allowing the trustee for one of its bond insurers to seize a building once slated to be its future city hall and three parking garages.
STOCKTON, California (Reuters) – (By Jim Christie; Writing by Peter Henderson; Editing by Toni Reinhold and David Brunnstrom)