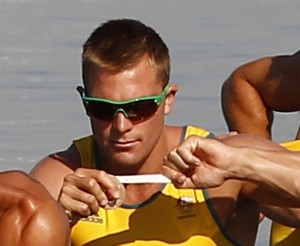 Australian rower Josh Booth has avoided any further legal action after he apologized and agreed to pay reparation of about 1,400 pounds ($2,178) for damage he caused to two shop windows, British police said on Friday.
Booth was detained by police early on Thursday after being called to an incident in Egham near the Olympic rowing venue west of London.
Australian team officials said Booth had been out drinking following the final of the men's eight at the London Games.
Surrey Police said on Friday that Booth had admitted his role in the incident, apologized for his behavior and offered to pay for the damage to the windows.
"In cases where offenders admit their criminal behavior, are prepared to accept responsibility and face the consequences, some offences can be resolved without resorting to criminal charges," police said in a statement.
"Following an offer of reparations to cover the costs of repairs by Mr Booth, the victims are satisfied that the matter can be dealt with without the need for criminal charges."
Australian deputy chef de mission Chris Fydler had told reporters earlier the incident had been an embarrassing one for the team.
"We expect a much higher standard of behavior from all of our athletes," Fydler told a news conference.
"This is been an embarrassing situation not just for rowing but for us as well …and we will certainly be reminding section managers, as various sports start to complete, that the level of behavior is expected of their athletes."
($1=0.64 GBP)
LONDON (Reuters) – (Reporting by Greg Stutchbury; Editing by Mark Meadows and Ed Osmond)