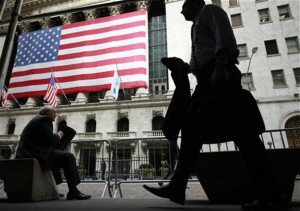 To borrow from "Star Wars," the Force is strong with this stock market.
Despite a ho-hum earnings season and central banks' disappointing hopes for aggressive economic stimulus this week, U.S. stocks held firm.
After four days of losses, the benchmark Standard & Poor's 500 index <.INX> <.SPX> rallied on Friday, finishing the week in the positive for a fourth straight time and reaching three-month highs.
Sustaining momentum are valuations that make stocks attractively priced relative to other assets. To be sure, some corporate earnings have been impressive, especially in defensive stocks such as utilities.
The trigger for stocks' surge was the Labor Department report that U.S. employers added 163,000 jobs to their payrolls in July, the most in five months. However, the unemployment rate, based on a different government survey, edged up to 8.3 percent.
ATTRACTIVE EQUITIES
"There's still a fair amount of pessimism, but equities are so much more attractive than bonds that the dividend on Johnson & Johnson , for example, offers a better yield than the company's bonds," said Bruce Zessar, managing director at Advisory Research in Chicago, which oversees about $9 billion.
An investor would do better with the stock than the bond over the next ten years even if the stock price went nowhere because of the stock dividend, he said.
Based on measures like dividends and price-to-earnings ratios, equities appear cheap compared to other assets like Treasuries where yields on the 10-year note fell to a record low this past month. Stocks are the best house in a bad neighborhood.
After the Federal Reserve and the European Central Bank didn't take aggressive, immediate measures to spur growth, the market disappointment was fairly short-lived, considering how hotly the actions had been anticipated.
The S&P fell about 0.7 percent on Thursday following the ECB's comments compared with a nearly 2 percent rise before in anticipation of action.
MOMENTUM "ON OUR SIDE"
"This indicates that there is near- and long-term momentum on our side, like Wall Street's version of 'May the force be with you,'" said Sam Stovall, chief investment strategist for Standard & Poor's Equity Research Services in New York.
In another positive sign, large blocks of upside calls were apparently bought on Friday in an exchange traded fund designed to measure equity performance in the global emerging markets.
The option flow in the iShares MSCI Emerging Markets fund "seems to express confidence that today's global equity market rally can continue over the next seven weeks," said WhatsTrading.com options strategist Frederic Ruffy.
For the week, the Dow Jones industrial average <.DJI> rose 0.2 percent, the Nasdaq composite index <.IXIC> added 0.3 percent and the S&P rose 0.4 pct. It was a fourth straight week of gains for the Dow and S&P and third for the Nasdaq.
The S&P is up almost 9 percent from an early June bottom and is a mere 2 percent from its 2012 closing high.
Much of that rise has come on gains in defensive sectors like telecommunications <.GSPT>, a sign that while investors aren't ready to abandon stocks, they're still looking to limit risk and volatility. Telecom shares are by far the strongest performers of the year, surging 18.6 percent, more than double the S&P's 8.5 percent gain for the year.
"It's rare to see gains lead by defensives, but they offer such attractive yields from dividends that even though valuations are stretched, they're likely to get stretched further," said Brad Sorensen, director of market and sector analysis at Charles Schwab in Denver.
In a sign of near-term momentum, 87.5 percent of telecom shares are trading over their 50-day moving average, according to data from Bespoke. Utilities <.GSPU>, another defensive group, has almost 98 percent of components above the moving average, compared to 71.8 percent of the S&P at large.
This comes despite an earnings season marked by weak revenue growth and companies that are more negative about their outlooks than they have been 11 years. Still, more than two-thirds of S&P components have topped profit expectations thus far, according to Thomson Reuters data.
Quarterly earnings due next week include Walt Disney Co , Priceline.com and Chesapeake Energy . Results from Macy's Inc and J.C. Penney Co Inc should shed light on the strength of consumer spending.
NEW YORK (Reuters) – (By Ryan Vlastelica; Editing by Kenneth Barry)