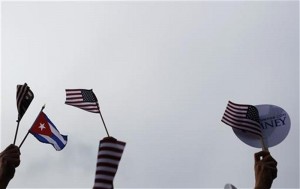 New rules that reduce the number of early voting days in Florida are an unfair burden on minorities, a U.S. federal court said in a ruling that upheld the U.S. Justice Department's decision to block the changes in five of the state's 67 counties.
The Justice Department and civil rights groups had argued that a 2011 Florida law allowing counties to reduce the window for early voting from 96 hours per week to as few as 48 made it more difficult for minorities to vote than whites.
The federal government blocked the rules from taking effect in five counties — Collier, Hendry, Osceola, Polk and Lee — by invoking the 1965 Voting Rights Act, which allows it to veto voting rules changes in certain states and counties with histories of racial repression.
In its ruling late on Thursday, a three-judge panel of the U.S. District Court for the District of Columbia said in an unsigned opinion that Florida failed to prove its law didn't discriminate.
Florida's 62 other counties are not protected by the provision in the Voting Rights Act cited by the Justice Department, so their voting rules changes took effect immediately.
In June, Florida told the District Court in Washington that reducing early voting hours did not affect overall turnout.
In the 2008 presidential election, more than half of black voters in Florida cast their ballots during the early voting period, twice the rate of white voters.
Florida's new rules also require that precincts be closed on the Sunday before Election Day, when black churches in Florida traditionally transport members from services straight to voting booths through the "Get Your Souls to the Polls" program.
Florida cannot appeal the court's decision yet, because it has yet to rule on state changes to third-party voter registration rules. Lawyers representing Florida did not immediately respond to requests for comment.
Regardless of whether Florida appeals, opponents of the voting hours reductions now will challenge them in the state's 62 other counties on the grounds that they are not uniform with the rest of the state.
"If we don't do it, I'm positive someone else will," said Dale Ho, a lawyer with the Legal Defense Fund, one of the advocacy groups involved in the case.
The court, however, upheld a separate measure that requires Florida voters who moved between counties to file provisional ballots on Election Day if they haven't changed their address in time.
WASHINGTON (Reuters) – (By Drew Singer; Reporting by Drew Singer; Editing by Howard Goller and Paul Simao)