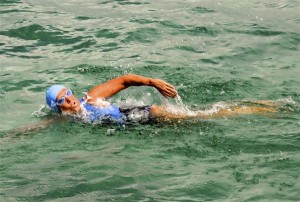 Long-distance swimmer Diana Nyad battled jellyfish and choppy seas on Sunday during the second day of her attempt to swim the 103 miles from Cuba to the United States.
Nyad, an American who will turn 63 on Wednesday, began her fourth attempt to swim across the Florida Straits on Saturday afternoon, jumping off from Havana's Hemingway Marina.
She is accompanied by five boats and 50 crew members, some of whom posted blog updates on her website (www.diananyad.com/blog).
During the night, jellyfish stung Nyad on the lips, forehead, hands and neck, they said. She also battled choppy waves, but the sea was calmer on Sunday as she swam north toward Key West, Florida.
"Today is more like swimming. I don't know what you would call last night … probably surviving," Nyad was quoted as saying.
By 3:20 p.m. EDT (1920 GMT) on Sunday, she had swum nearly 24 miles and was marking the time by singing Beatles tunes, the blog said.
Nyad hopes to reach the Florida Keys on Tuesday. If she makes it, she would own the world record for the longest unassisted open ocean swim, which means without a shark cage.
Instead of a cage, equipment emitting a mild electric current in the water will keep sharks at bay.
Nyad has tried to make the swim three times, including twice last year. But she never got much more than halfway before giving up.
Only one person has completed the swim between ideological foes Cuba and the United States. Australian Susan Maroney was 22 when she did it in May 1997 using a shark cage.
MIAMI (Reuters) – (Reporting by Jane Sutton; Editing by Xavier Briand)