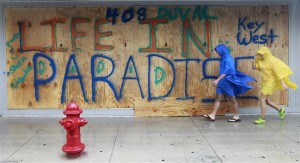 Tropical Storm Isaac lashed south Florida with winds and heavy rain on Sunday after battering the Caribbean, disrupting plans for the Republican National Convention in Tampa and threatening to interrupt about half of U.S. offshore oil output.
Isaac is expected to strengthen to a Category 2 hurricane and hit the Gulf Coast somewhere between Florida and Louisiana at midweek – on or near the seventh anniversary of Hurricane Katrina – the U.S. National Hurricane Center (NHC) said in an advisory.
A hurricane watch was extended westward to include New Orleans, which was devastated when Katrina struck the city on August 29, 2005, killing more than 1,800 people and causing billions of dollars of damage to the Gulf Coast.
Forecasters said a hurricane warning may be issued for parts of the northern Gulf Coast by Sunday evening.
"Today and tomorrow are the preparation days for folks on the northern Gulf Coast. These folks need to pay attention to what their emergency managers are telling them," said Richard Knabb, director of the Miami-based NHC.
Isaac was due to be at or near hurricane strength soon after its center crosses the Florida Keys late on Sunday. A storm becomes a hurricane when sustained winds reach a minimum of 74 miles per hour.
The NHC said Isaac was expected to intensify to a Category 2 hurricane, with "extremely dangerous" sustained winds of 105 miles per hour, as it swept up the warm waters of the Gulf of Mexico.
At 2 p.m. EDT (1800 GMT) on Sunday, Isaac was about 50 miles south-southeast of Key West and packing top sustained winds of 60 miles per hour.
Tropical force winds from the massive storm stretched across 400 miles, with rain bands extending even further, said NHC meteorologist David Zelinsky.
"It certainly is a large storm," he said, noting that wind gusts of 60 mph had been detected as far apart as Key West and Palm Beach.
The winds forced cancellations of hundreds of flights in and out of Miami, Fort Lauderdale and other south Florida airports. Miami Mayor Carlos Gimenez reported more than 500 cancellations affecting Miami International Airport alone.
More than half of the restaurants and other businesses were shuttered in the tourist haven of Key West on Sunday, at the southernmost tip of the U.S. mainland, after many visitors heeded official warnings to head home early.
Gulf of Mexico oil operators on Sunday braced for the first hurricane to affect the U.S. oil patch in 2012, which could shut down of more than half of U.S. offshore oil output. Isaac's more westerly expected track brings it closer to the heart of the U.S. offshore oil patch, which produces about 23 percent of U.S. oil output and 7 percent of its natural gas output.
So far, Isaac has shut about 9 percent of offshore oil output, according to U.S. officials. That will rise in coming days, according to forecasters at Weather Insight, an arm of Thomson Reuters, who predict the storm will spur short-term shut-downs of 51 percent of U.S. offshore oil capacity and 52 percent of its natural gas output.
London-based BP Plc, the biggest U.S. Gulf producer, said it will shut production at all of its Gulf of Mexico oil and gas platforms and evacuate all workers on Sunday.
REPUBLICAN CONVENTION SCHEDULE DISRUPTED
Republicans, who will formally nominate former Massachusetts Governor Mitt Romney as their presidential candidate for the November election, will convene their four-day meeting on Monday as scheduled, then recess until Tuesday.
In its latest advisory, the NH said Isaac was churning west-northwest at 18 miles per hour. The storm was officially expected to make landfall anywhere between the Florida Panhandle and eastern Louisiana early on Wednesday.
Tampa, located on Florida's west coast, still faces a threat of both winds and heavy rains from Isaac. But forecasters said a slight westward shift in the storm's track could help put Tampa out of harm's way.
In Haiti, Isaac added to the misery of more than 350,000 survivors of the 2010 earthquake still living in flimsy resettlement camps as water gushed into tents and corrugated plastic shacks ripped apart by the wind.
FLOODING AND DEATHS IN HAITI
Authorities in the impoverished nation said on Sunday the storm had killed eight people, including three children.
In the Dominican Republic, officials said three people were missing, including the mayor of a town near Santo Domingo who was swept away as he tried to save another person from a flooded river.
No deaths or injuries were reported in Cuba, which got off lightly when the storm crossed its eastern flank instead of raking up the length of the island as originally predicted, but it still sustained damage.
By Sunday afternoon much of Key West looked like a ghost town. But a few hardy tourists seemed to be taking the storm in stride.
"We booked months in advance. The next thing I know we have a hurricane," said Diane Vaccaro, a grandmother from New Jersey vacationing with her sister and husband Andrew.
She said it would be her eighth hurricane.
"It's just fun. You ride it out and you can say 'I did it. I survived,'" said Vaccaro.
KEY WEST, Florida (Reuters) – (By Michael Haskins; Writing by Tom Brown; Additional reporting by David Adams in Miami, Andrew Innerarity in Key West, Jeff Franks and Nelson Acosta in Havana, Susana Ferreira in Port-au-Prince and Manuel Jimenez in Santo Domingo; Editing by Vicki Allen)