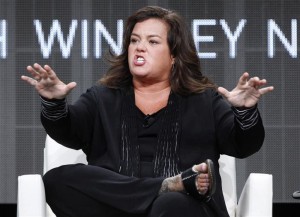 Comedian and talk show host Rosie O'Donnell married partner Michelle Rounds in an intimate hospital ceremony earlier this summer, the comedian wrote on her official website on Monday.
O'Donnell, 50, posted that Rounds, 41, was diagnosed with Desmoid tumors in June, and they decided to get married in the intensive care unit on June 9, before Rounds went into surgery to treat the benign tumors.
The announcement came after O'Donnell posted last week that she had suffered a heart attack and was "lucky to be here." She has since embraced a healthier lifestyle, posting about "long walks and vegetables," and painting pictures the comedian is selling to raise funds for Desmoid Tumors Research Foundation.
The comedian said she and Rounds "will have the wedding of our dreams" once they are both well enough.
O'Donnell, who previously hosted "The Rosie Show" on Oprah Winfrey's OWN network until it was canceled in March due to low ratings, became engaged to Rounds in front of a studio audience in December.
LOS ANGELES (Reuters) – (Reporting By Piya Sinha-Roy; Editing by Bob Tourtellotte)