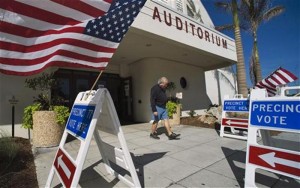 A judge said on Wednesday he would issue a permanent injunction against controversial restrictions on voter registration drives in Florida put in place under a new state election law backed by the state's governor.
U.S. District Judge Robert Hinkle temporarily prohibited Florida in May from enforcing parts of the law that tightened deadlines for groups conducting voter registration drives to submit registration forms.
In a ruling on Wednesday, Hinkle said he would grant a permanent injunction against the law's provisions if the case is not appealed to a higher court. The state of Florida and civic groups have agreed not to appeal the ruling.
The case is among several legal battles over voting laws that have played out in Florida, which is expected to be a key swing state in November's presidential election.
The law has been challenged by civic and voting rights groups, including the League of Women Voters and Rock the Vote.
"This order is a decisive victory for Florida voters," Lee Rowland, a lawyer for the Brennan Center for Justice, a plaintiff in the case, said in a statement.
"The Florida legislature has tried repeatedly to stifle access to voter registration opportunities, and once again a federal court has stopped them in their tracks."
Backers of the law, which was passed last year by Florida's Republican-controlled Legislature and signed by Republican Governor Rick Scott, say it is intended to fight voter fraud.
Critics have said the law's effect would be to suppress registration of voters likely to vote Democratic.
It was part of a wave of what critics called "voter suppression laws" backed by Republicans and enacted in 15 states last year.
The Florida law imposed a $1,000-a-day fine on groups that fail to give election authorities the registration forms within 48 hours after voters filled them out. Voter registration groups previously had 10 days to submit the forms.
The League of Women Voters said the requirement forced it to stop holding drives in Florida after doing them for 72 years.
MIAMI (Reuters) – (By Kevin Gray; Reporting by Kevin Gray; Editing by Peter Cooney)