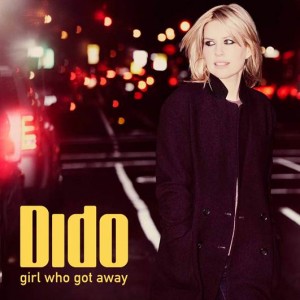 BRAND NEW SINGLE "NO FREEDOM" AVAILABLE AT ITUNES AND ALL DIGITAL PROVIDERS FEBRUARY 19TH
Dido, one of the world's best-selling female recording artists of all time with over 29 million albums sold, returns with her strongest album yet entitled GIRL WHO GOT AWAY, available on March 26th on RCA Records. The album will be available in both standard and deluxe editions. Find complete track listing below.
The album's first single "No Freedom" will be available for sale at all digital providers on 2/19, and the single will be an instant grat track with the iTunes album pre-order, beginning on February 19th, 2013.
Working once again with her brother Rollo Armstrong, who produced the majority of the album, Dido collaborated with a "who's who" of hit makers including Brian Eno, Jeff Bhasker, Rick Nowels and Greg Kurstin to create an album of finely, self-penned songs and soul-baring pop with electro, folk, hip hop, ambient and dance infusions.
Having already introduced critically-lauded track "Let Us Move On" from GIRL WHO GOT AWAY, featuring a razor-sharp guest spot from the man-of-the-moment rapper Kendrick Lamar – Dido is set to unleash her compelling new single " No Freedom" on February 19th.
The album GIRL WHO GOT AWAY is a captivating collection of well-crafted songs and stunning production: from the euphoric "Go Dreaming," to the barbed wit of "End of Night," the folky "Sitting On The Roof Of The World" to the dance-y-yet-dark "Blackbird" to the album's title track which Dido shares: "It's one of my favorite songs on the record," she says. "…but I guess it also sums up the last few years for me. Taking a step back from it all and going off to have the whole happy adventure of starting a family and making an album that I really am so proud of. And now I just can't wait for people to hear it."
She continues; "It was an incredibly fun record to make. There was no pressure on me at all. It's all been so natural and easy. On every other record I've made, there have been really tricky days, but there weren't any like that on this one."
Having sold over 29 million albums worldwide, including her first two albums No Angel and Life for Rent, and her most recent, the critically-acclaimed Safe Trip Home Dido returns in a major way with GIRL WHO GOT AWAY. Warm, evocative and bursting with the emotion of life's little details, GIRL WHO GOT AWAY is classic Dido – at once modern and timeless.
www.didomusic.com