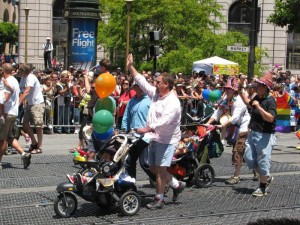 The American Fertility Association (The AFA) and Fairfax Cryobank announced today a free, educational event about family-building options such as donor insemination, egg donation and surrogacy for gay women and men in Philadelphia, Pennsylvania.
Growing Your Family: LGBTQ Options will take place on Saturday, February 22 nd from 12:00 p.m. to 3:00 p.m. at The William Way LGBT Center, located at 1315 Spruce St., Philadelphia, PA 19107.
Critical information, such as deciding between a sperm donor you know and one you don't, working with an egg donor and surrogate, fertility preservation for the trans community and understanding your legal rights and responsibilities will be discussed over lunch by experts in a relaxed, conversational format.
"Helping all hopeful parents identify their unique path to parenthood is the hallmark of The American Fertility Association. As the only inclusive national fertility association committed to serving everyone who wishes to have a family, we're excited by the opportunity to work with Fairfax Cryobank and bring this powerful educational event to the Philadelphia LGBTQ community," said Ken Mosesian, Executive Director of The AFA, who added, "We've assembled a stellar and knowledgeable team of presenters, known for their commitment to this population, including AFA board member Patricia Mendell L.C.S.W., Tiffany Palmer, Esq. and Jacqueline Gutmann, M.D."
"We are very excited to participate in this inclusive event to share information on LGBTQ family building, and look forward to discussing the options available. We will discuss sperm donors, directed sperm donation, the legal and psychosocial aspects and other items brought up by the attendees," said faculty member Michelle Ottey, Ph.D., Laboratory Director and Director of Operations for Fairfax Cryobank.
All are welcome to attend. A light lunch will be served and educational gift bags given to all participants.
The event is free, but reservations are preferred. Please call Corey Whelan at 718-853-1411 or  email .
About The AFA:
The American Fertility Association (The AFA) is an inclusive organization committed to helping people create their families of choice by providing leading-edge outreach programs and timely educational information. The scope of our work encompasses reproductive and sexual health, infertility prevention and treatment, and family-building options including adoption and third party solutions. The AFA is a national, not-for-profit 501(c)(3) charitable organization headquartered in New York City. http://www.theafa.org
Read more news from The American Fertility Association.
SOURCE The American Fertility Association