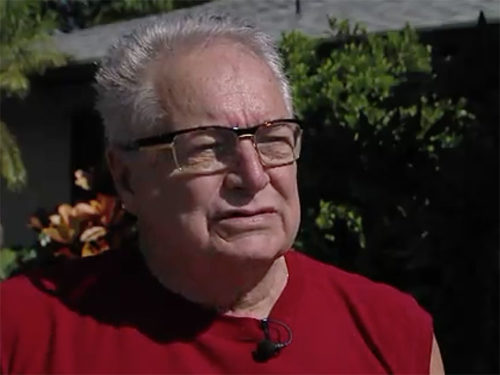 A senior citizen in Sarasota, Fla., says a stranger physically attacked him because he's gay, and cited president-elect Donald Trump as sanctioning the abuse.
"He kept saying, 'You know my new president says we can kill all you faggots now,'" according to 75-year-old Chuck Redding. "It's absolutely horrendous," he said.
Redding told WFTS-TV the person targeted him because of the stickers on the back of his car, one for Human Rights Campaign and the other a rainbow sticker for marriage equality. According to Redding, the man in the dark-colored Jeep followed his car, right on his bumper, all the way to the street where he lives.
"This guy was extremely close to me. At first, I didn't think anything of it other than it was a jerk that was following too close," Redding told the station. That's when, he said, "I knew then something was wrong."
Full story:
Source: Attacker tells Fla. man: 'My new president said we can kill all you f—–s now'