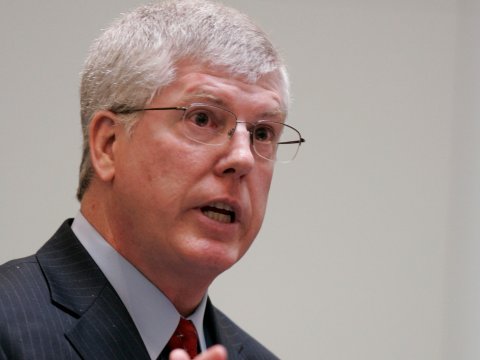 You know him as Kim Davis's white-haired, right-wing Christian attorney, but Mat Staver clearly wants you to think of him as the defender of America from Satan. Or, perhaps, Dana Carvey's "Church Lady" character from Saturday Night Live.
Right Wing Watch reports the antigay lawyer compared the state of Georgia to Nazi Germany, suggesting Christians in the peach state are threatened by "satanic forces" — namely, the LGBTQ community.
"We are living at a time where the church is coming under great stress from these secularist and, in some cases, satanic forces, and now is the time for the church to rise up," said Staver on Wednesday's Faith and Freedom" radio broadcast, Staver is the founder and head of Liberty Counsel, a Florida-based law firm that most often defends Christians in cases where they are accused of infringing upon LGBTQ rights.
The cases he specifically referred to were that of Kelvin Cochran, the fired former fire chief in Atlanta who crossed the line by handing out copies of his self-published book that attacks homosexuality, and is now suing for religious discrimination, as is Georgia lay minister Eric Walsh who was fired for antigay sermons.
"I don't want to compare this to Nazi Germany," Staver said on the broadcast.
Then, he immediately compared Georgia to… Nazi Germany.
Source: Mat Staver compares us to Nazis and warns against our godless 'satanic forces'