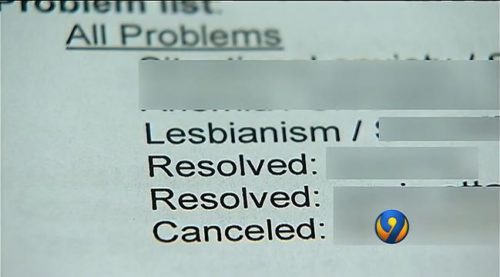 A North Carolina woman was shocked to find "lesbianism" listed as a diagnosis on her medical history chart.
Kristina Rodriguez saw the note on her medical record after getting blood work done at Lake Park Family Practice of Carolinas Healthcare System, in Indian Trail.
"This listed as a medical problem could really set someone back, could mess with their self-esteem and could make them think something is wrong with them," Rodriguez told WSOC-TV. "I hope to bring change to where stuff like that is not disclosed on your medical record, because that's personal information."
She said she has been seeing the medical provider since she was ten years old.
"They're my doctor, they've always been someone I trust, and someone that I like. And it's always been a positive experience," she said. "I don't think he had any ill-intent with putting it on there, but I truly don't know."
"This is not an appropriate clinical diagnosis, and we are actively investigating how this information was included," Carolinas Healthcare System said in a statement on Tuesday night.
It continued by saying the system "strongly supports diversity and inclusion."
While Rodriguez was happy with the statement, there are reasons to question the claim.
Carolinas Healthcare System does not have a non-discrimination policy protecting LGBTQ individuals, as noted by the Human Rights Campaign's 2016 Healthcare Equality Index.
Their discrimination policy, which can be found online, does not include protections against discrimination on the basis of sexual orientation or gender identity. There is also no federal law and no North Carolina state law protecting against such discrimination.
Charlotte passed an expanded non-discrimination ordinance last year which provided protections to the LGBTQ community, but it was nullified after the North Carolina General Assembly passed House Bill 2 (HB2). HB2 nullified all non-discrimination ordinances passed by cities and municipalities in the state.
Rodriguez also said a spokesperson for the hospital said they put "lesbianism" on her record to keep staff from referring to her partner as "husband."
Source: Woman in North Carolina shocked to see 'lesbianism' listed as medical condition