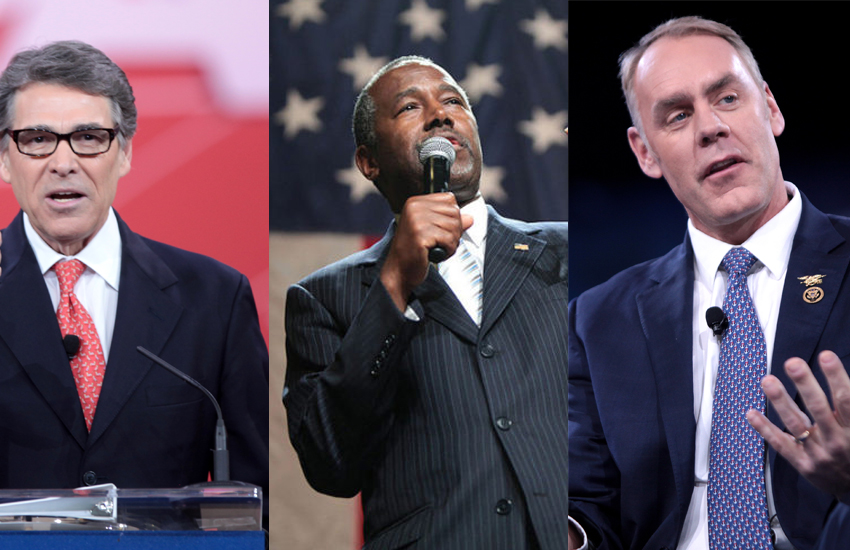 The US Senate has confirmed three homophobic candidates into President Donald Trump's cabinet.
On Thursday morning (2 March) Ben Carson, a former neurosurgeon, was confirmed as Secretary of Housing and Urban Development.
Senate voted 58-41 on his appointment. According to the New York Times, he did not face much opposition from the Democrats during the confirmation process.
During his hearing, he did not commit to avoid directing tax money to President Trump's businesses.
On Wednesday (1 March), former Texas Governor Rick Perry was confirmed as leader of the Department of Energy – a department he once claimed he wanted to eliminate – with 62-37 votes.
During his confirmation hearing, he said after being briefed on the Department's work, he 'regret[s] recommending its elimination'.
And on Tuesday (28 February), former Montana Congressman Ryan Zinke was appointed to lead the Department of the Interior, with a 68-31 vote.
All three candidates have, in the past, made homophobic remarks.
Ben Carson: 'Being gay is a choice and prison proves it'
In a 2015 interview with CNN, Carson famously said being gay was a choice – and cited prisons as his example.
When host Chris Cuomo asked whether Carson saw homosexuality as a choice, the former neurosurgeon replied with 'absolutely'.
'Because a lot of people who go into prison go into prison straight — and when they come out, they're gay,' Carson said.
'So, did something happen while they were in there? Ask yourself that question.'
He later backtracked and apologized for his prison comparison, but never made clear whether he still considers being gay a choice.
Carson supported Vice President Mike Pence's right to discriminate-law and joked about same-sex couples' wedding cakes being poisoned.
He also compared people wanting same-sex marriage to those believing in bestiality and and pedophilia by drawing parallels to the North American Man/Boy Love Association (NAMBLA).
'Well, my thoughts are that marriage is between a man and a woman. It's a well-established, fundamental pillar of society and no group, be they gays, be they NAMBLA, be they people who believe in bestiality, it doesn't matter what they are, they don't get to change the definition,' he said in a Fox News interview.
'So it's not something that's against gays. It's against anybody who wants to come along and change the fundamental definitions of pillars of society. It has significant ramifications.'
Ryan Zinke: allowed tax-funded discrimination
Zinke has rarely spoken openly about where he stands on LGBTI issues.
He voted to allow government contractors to provide against LGBTI workers.
But in October, he implied he considers homosexuality a choice. During a debate, Zinke told lesbian Democrat Denise Juneau he didn't care whether she 'want[s] to be a lesbian'.
He was promptly booed by the audience.
Zinke also called Congressman Trey Gowdy a 'good friend' in an op-ed for the Glasgow Courier.
Gowdy is famously anti-LGBTI. He compared marriage equality to polygamy and incest.
Rick Perry: compared homosexuality to alcoholism
In 2014, the former Texas governor compared gay people to alcoholics.
'Whether or not you feel compelled to follow a particular lifestyle or not, you have the ability to decide not to do that,' he said.
'I may have the genetic coding that I'm inclined to be an alcoholic, but I have the desire not to do that, and I look at the homosexual issue the same way.'
He has also opposed same-sex marriage, the end of Don't Ask, Don't Tell, and took a lead role in trying to keep openly gay members out of the Boy Scouts of America.
Source: Senate confirms three homophobic cabinet appointees