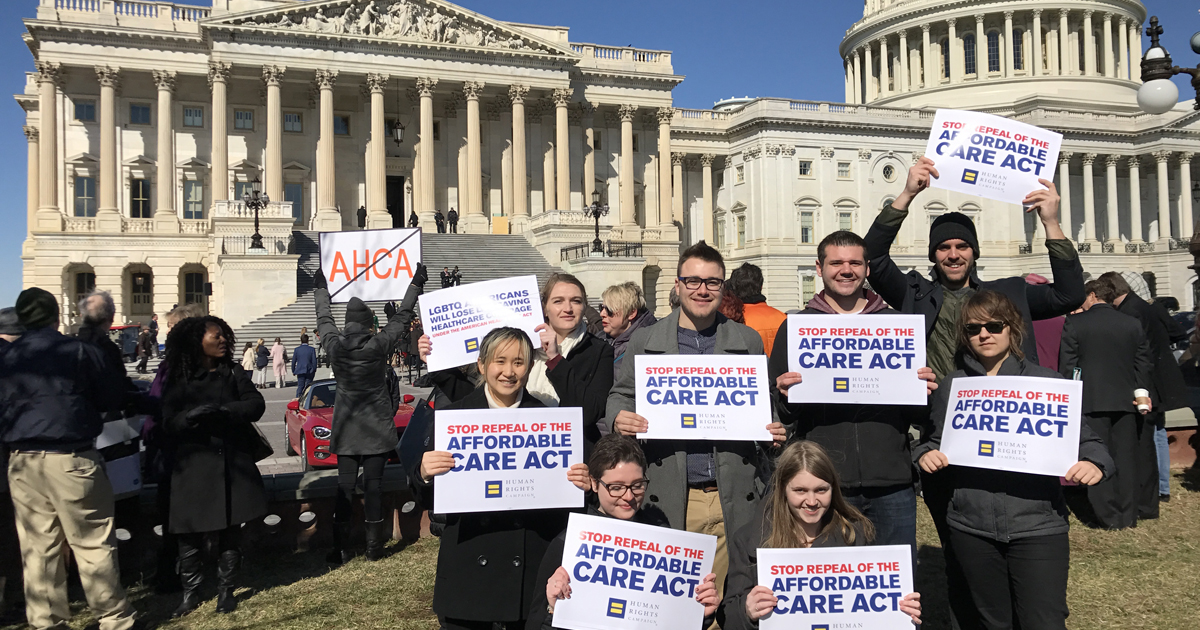 HRC released the following statement after Speaker of the House Paul Ryan pulled the American Health Care Act (AHCA) from consideration by the House of Representatives. The Congressional Budget Office projected that the provisions of the legislation would result in 14 million Americans losing their health insurance by 2018, and skyrocketing to 24 million by 2026.
"Today is a win for the thousands of LGBTQ Americans who will retain life-saving health care under the Affordable Care Act. The Republican proposal would have ripped away care from millions of people, with a particularly devastating impact on low-income senior citizens, women, children, LGBTQ people, people living with HIV and others," said HRC Government Affairs Director David Stacy. "This move is an example of the power of constituents and their stories, which weighed heavily on Members of Congress. Thankfully, Members did not turn their backs on the very people they represent."
The AHCA would have undermined core provisions of the landmark Affordable Care Act (ACA). As a result of the ACA, thousands of low-income people living with HIV have been able to obtain health insurance through the Medicaid expansion. This critical coverage ensures that people living with HIV have access to lifesaving treatments. The AHCA's drastic changes to Medicaid would have stripped these people, and other vulnerable populations, of essential healthcare coverage.
The tax credit structure embedded in the proposed health care act would have left thousands of low-income individuals and families without coverage due to cost increases. Systemic discrimination of LGBTQ Americans has historically contributed to the community having some of the lowest rates of insurance coverage in the nation. This trend is reversing as a result of the Affordable Care Act. The LGBTQ community has benefitted from the ACA's tax credit structure and the Medicaid expansion, and the rescission of both of these critical components would have had devastating consequences for a community already facing significant health care disparities.
Beyond repealing these key provisions of the ACA, the AHCA would have also cut federal funding for Planned Parenthood, which could jeopardize the ability of clinics to deliver preventive health services critical for the LGBTQ community, including HIV testing and transition-related care. The ACA's public health and prevention fund, established to expand investments in the nation's public health infrastructure, would also be repealed. Health centers, like those operated by Planned Parenthood, often offer the only culturally competent healthcare available, especially in rural and isolated areas.
In considering the ACA in 2009 and 2010, the House held 79 hearings over the course of a year, heard from 181 witnesses and accepted 121 amendments. The current House leadership moved this unacceptable repeal and replacement legislation through the House in a matter of weeks with no hearings or meaningful debate. The Senate adopted the ACA only after approximately 100 hearings, roundtables, walkthroughs and other meetings, and after 25 consecutive days in continuous session debating the bill.
Source: AHCA Vote Pulled; #LGBTQ People Retain Health Care