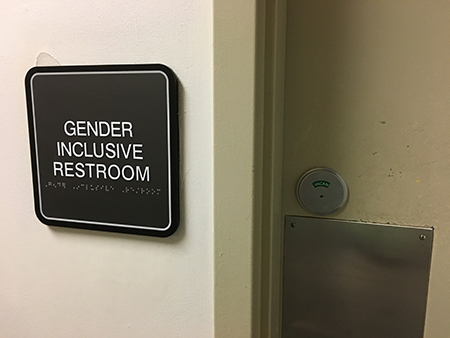 Yale Law School wants to make its single-user restrooms gender-neutral. But to meet Connecticut building code, it must have a certain number of bathrooms designated and assigned by sex.
The state's deputy building inspector refused the law school's request for a code modification in December, and the finding was upheld by the codes and standards committee in March. The university filed an administrative appeal this week in the State of Connecticut Superior Court, the New Haven Register reports.
"Some of the student proponents of the shift had reported being made to feel uncomfortable when using gender-specific bathrooms. The proposed shift in designation to gender-neutral and associated code modifications would facilitate quick access to a bathroom within the building for persons of all gender identities, eliminate discomfort expressed by trans and gender non-conforming law school students in using gender specific restrooms and promote the equal treatment of trans and gender-nonconforming students," states the complaint (PDF) which was filed June 23.
The structure in question is the Sterling Law Building, which was built in the 1920s. If the law school wants to meet building code and make the single-user restrooms gender-neutral, it would need to add more restrooms so that it meets the code-required number of facilities assigned by gender. That's not feasible, according to the complaint, because of space considerations and the architectural significance of the building's interior space. Also, the filing states, it's anticipated that the International Plumbing Code for 2018 will require that single-occupancy restrooms be identified "for use by either sex."
And a number of cities, including New York, San Francisco and Washington, D.C., already require single-occupancy public bathrooms to be gender-neutral, according to the New Haven Register. The state's Department of Administrative Services did not have a comment on the matter, its spokesperson told the ABA Journal.
While having an adequate amount of restrooms for women in spaces seen as traditionally male has sometimes been a battle, increasingly law schools are…
Read full story from Source: Yale appeals decision forbidding designation of more gender-neutral bathrooms in law building