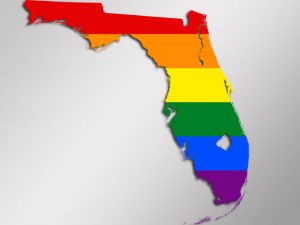 This year's race for Governor of Florida exemplifies the racial and political differences that have divided the United States and the State of Florida in the Age of Trump. The Republican candidate, former U.S. Representative Ron DeSantis, is a staunch conservative and a strong supporter of President Donald Trump. His Democratic opponent, Tallahassee Mayor Andrew Gillum, is a progressive who received the endorsement of Vermont Senator Bernie Sanders. Furthermore, Gillum is African-American; and his nomination inevitably made race an issue at a time when racial conflict is most acute. Myra Adams, writing for realclearpolitics.com, called this an "epic race" that "will be light-years beyond any normal, nasty, expensive gubernatorial election campaign because 'liberal' Gillum and 'conservative' DeSantis are stand-ins representing all that divides our nation."
"Moderate" voices like the editors of the Sun-Sentinel were dismayed by Gillum's surprise win in the Democratic primary, especially since Gillum won a plurality but not a majority of the vote. Had there been a runoff, Gillum's opponents like Rep. Gwen Graham or Jeff Greene might have united to defeat the Mayor. "Andrew Gillum's [victory] … comes with an obvious disadvantage. Nearly two-thirds of Democratic voters preferred other candidates," the editors moaned. "That's not to say Gillum couldn't have won them over in a runoff. But there is no runoff. The Legislature's Republicans repealed it 13 years ago over mostly Democratic opposition." If the GOP hoped that the lack of a runoff would lead to moderate Democrats' flight and a weakened Democracy, they were probably mistaken. Gillum is still ahead in the polls.
No matter how they got there, the differences between the two leading candidates for Governor are greater than they have ever been. DeSantis already called Gillum a "socialist" for advocating "Medicare for all," raising the minimum wage to $15 and abolishing the U.S. Immigration and Customs Enforcement (ICE). The candidates' views on LGBT rights highlight their differences. DeSantis, who was endorsed by the Family Research Council PAC, earned a "0″ rating from the Human Rights Campaign. According to Samuel Johnson, writing for Watermark, DeSantis voted against "the Maloney Amendment, a ratification of President Obama's executive order making it illegal for federal contractors to discriminate on the basis of sexual orientation and gender identity." DeSantis also supported the First Amendment Defense Act, which "would have hamstrung the federal government from acting against someone who has discriminated against another if the discrimination was based on religious belief or moral conviction."
On the other hand, Andrew Gillum "has always been a staunch supporter of LGBTQ rights." According to Watermark's Samuel Johnson, Gillum "vows to protect the LGBTQ community. He will make sure we protect all people, in particular those in the LGBT community, with an emphasis on the T, for transgender." Gillum "supports same-sex marriage, advising that 'when many in the panhandle said they would no longer issue marriage licenses to [same-sex couples] I stood up as the mayor Florida's capital city and said, come here and get married, where we recognize that love is love.'"
"Mayor Andrew Gillum's record of standing up for our community proves he's the right choice. We're proud to stand with him in this election and look forward to working with him as Governor," said Retired Judge Rand Hoch, President and Founder of the Palm Beach County Human Rights Council Voters Alliance. "Andrew Gillum has been a consistent champion for LGBTQ equality, and Floridians will see the stark contrast between his record on equality and his opponent who has embraced the anti-LGBTQ rhetoric and policies of the Trump-Pence administration," said Stratton Pollitzer, Chair of the Equality Florida Action PAC. "DeSantis is out of touch with the values of everyday Floridians, 70% of whom support nondiscrimination protections for the LGBTQ community. Mayor Gillum has committed to advancing Florida as a leader for LGBTQ equality in the South, making the state a welcoming place for everyone to live, work, and visit." As a gay man, and a progressive Democrat, I stand with most of my community to support Andrew Gillum for Governor of the State of Florida. Those who believe that Florida needs progressive change should support this worthy candidate.
Jesse's Journal
by Jesse Monteagudo