The Canadian province of Quebec launched an official campaign against homophobia Dec. 11.
"By its gesture this morning, Quebec society demonstrates once again that it is in the vanguard in terms of the rights of sexual minorities," said Kathleen Weil, who is the provincial justice minister, attorney general and minister responsible for the fight against homophobia.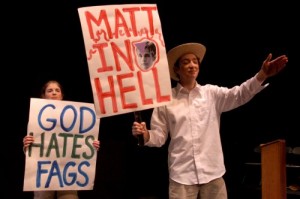 "La Politique québécoise de lutte contre l'homophobie" will recognize the realities of sexual minorities; promote respect for their rights; "foster their well-being, notably in offering services adapted to their needs"; and "ensure concerted action by all social actors in the fight against homophobia."
"Whether this translates into action on a large scale or simple gestures in everyday life, I am convinced that each of our actions to counter homophobia will move Quebec toward a society that is more just, more tolerant, and richer in its diversity," Weil said.
In a posting on its Web site, the Justice Ministry said the new campaign is just one element "in a broader strategy leading to the full and complete recognition of sexual minorities, institutional and community support for sexual minorities, and improved knowledge about sexual diversity."
By Rex Wockner