Organizers of Vail Gay Ski Week announced today the entertainment lineup and final schedule of events for Vail Gay Ski Week 2010 presented by Rocky Mountain Vacation Rentals, which will be held January 27 through January 31, 2010. With five action-packed days, Vail Gay Ski Week is sure to be an unforgettable experience for guests and skiers alike. Highlights of the schedule include the Friday night Beer Bust, the POPular Party on Saturday, the Angel Wings Benefit Dinner honoring The GLBT Community Center of Colorado and exclusive lunch specials at Sarge's Shelter. Entertainment for the week will feature internationally renowned DJ Sammy Jo, the Scissor Sisters Tour DJ, DJ Guillaume from Paris and Derek Hartley, voice of the Sirius-XM OUTQ Show, "Derek and Romaine."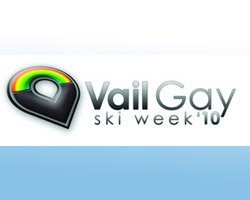 Friday Night Beer Bust at the Donovan Pavilion is a cowboy themed party featuring the best in local Colorado brews. DJ Sammy Jo, Scissor Sisters Tour DJ, will be on hand joining us fresh from London and showcasing his internationally renowned DJ talent.
The First Annual Angel Wings Benefit Dinner is Vail's signature fundraising event aimed at raising $10,000 for the GLBT Community Center of Colorado. Enjoy this evening gala featuring great cuisine and entertainment at Da Vinci Restaurant in the Vail Plaza Hotel.
The POPular Party Presented by Manhunt and DList at the Vail Plaza Umbria and Tuscany Ballrooms will be the largest dance party of the week and will feature DJ Guillaume. A rising star in DJ circles, DJ Guillaume will be spinning the sleek, sexy music that has become his trademark style.
Daily Lunch Specials at Sarge's Shelter at Mid-Vail Mountain are exclusive for Vail Gay Ski Week registrants. Just show your credentials and receive the best meals and deals with other attendees
Discounted lift tickets are $87 for Vail Gay Ski Week registrants.
For more information and a complete schedule, visit www.vailgayskiweek.com.
Interviews available on request.
Vail Gay Ski Week 2010
When: Wednesday, Jan. 27 – Sunday, Jan. 31, 2010
Where: Vail Ski Resort
Info: Event pricing, lodging and travel information available at www.vailgayskiweek.com
About Vail Gay Ski Week:
Vail Gay Ski Week presented by Rocky Mountain Vacation Rentals will be held Jan. 27-31, 2010, in Vail, Colorado. Vail Gay Ski Week offers unique activities such as the Vail Splash Club (Vail's version of the "Polar Bear Club"), Après Ski Socials, parties, and more. By removing the posh vibe and replacing it with a home-grown, local, and fun attitude that encompasses the "epic" experience that Vail provides, Vail Gay Ski Week is able to differentiate itself from other gay ski weeks. Vail is easily accessed from Denver and the Front Range, and offers its visitors five-star class with a three-star price tag. For the most up to date information, please go to www.vailgayskiweek.com or call 877-845-1519.
Tommy Hoffman, Founder and CEO, Vail Gay Ski Week
Phone: 970-477-1777
By News Wire