The trial in the federal lawsuit against Proposition 8 is likely to finally wrap up in U.S. District Court in San Francisco on June 16, when Judge Vaughn Walker has tentatively scheduled closing arguments.
The trial has been paused since testimony concluded on Jan. 27 because Walker said he wanted to study the record before hearing the attorneys' final statements.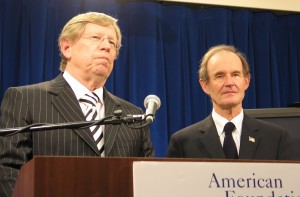 The hiatus dragged on longer than expected because of skirmishes between the anti-same-sex-marriage side and the gay groups that ran the campaign against Prop 8, who are not parties to the case.
The same-sex-marriage opponents demanded that Equality California and the American Civil Liberties Union produce various documents and e-mails from the campaign period. EQCA and the ACLU fought the demand at length before relenting on April 27.
Lawyers for the two groups said they turned over 4,500 documents and "thousands of e-mails" that seemed to fall within the purview of an order Walker had issued.
The opponents also are attempting to strike from the trial record some of the testimony of one of their defendant-intervenors, Hak-Shing William Tam. Walker told the anti-same-sex-marriage side to submit its motion by May 6 and told the gay side to respond to it by May 10.
Appearing on the witness stand Jan. 21, Tam said: "I believe that if the term 'marriage' can be used beyond one man and one woman, then any two person of any age or of any relationships can use the same argument and come and ask for the term 'marriage.' That would lead to incest. That would lead to polygamy."
Tam said he had learned "in the Internet" that after the Netherlands legalized same-sex marriage in 2001, it went on to legalize incest and polygamy.
"Another person in the organization found it and he showed me that," Tam said. "I look at the document and I think that was true."
The gay side is represented by famous lawyers Ted Olson and David Boies, who attempted to prove that Prop 8 violates the U.S. Constitution's guarantees of due process and equal protection under the law.
Mindful of several precise legal considerations or constructs, they tried to show that there's no coherent reason for the government to ban same-sex marriage, that Prop 8 passed primarily because California voters are prejudiced, that gays and lesbians need government help to fight the discrimination and persecution that continue to harm them, that being gay is usually not a choice and sexual orientation is usually immutable, that gay couples' children fare as well as straight couples' children, and that so-called traditional marriage has undergone transformations throughout history.
Passed by voters in November 2008, Prop 8 amended the California Constitution to re-ban same-sex marriage just 4 1/2 months after the state Supreme Court legalized it.
Olson and Boies' lawsuit is ultimately aimed at the U.S. Supreme Court, where it could end up as soon as next year, after a stop at the 9th U.S. Circuit Court of Appeals. If successful, the lawsuit could bring about the legalization of same-sex marriage nationwide. If unsuccessful, it could have the effect of stopping the movement for same-sex marriage — which now is legal in five states and Washington, D.C. — dead in its tracks for possibly a generation.
The suit is without doubt a high-stakes gamble, so much so that the gay rights legal establishment initially opposed it and was, as a result, blocked by Olson and Boies from intervening once it became clear the case was going to happen and was going to be a big deal.
By Rex Wockner