Activists from a group called Human Equal Rights Organizers, or HERO, were arrested at U.S. Sen. John McCain's office in Phoenix on April 26.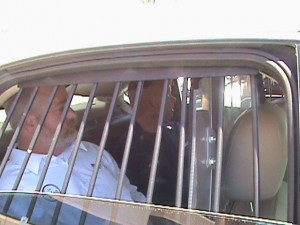 Meg Sneed, Jimmy Gruender, Lee Walters, Luisa Valdez and Lonnie Allen Howard-Stidham had refused to leave the office until McCain spoke with them about Howard-Stidham's 2007 discharge from the Coast Guard under Don't Ask, Don't Tell.
The group had vowed, "We will not leave McCain's office until the senator meets with his constituents and stands behind his 2006 quote that 'The day that the leadership of the military comes to me and says, "Senator, we ought to change the policy," then I think we ought to consider seriously changing it.'"
McCain has since backed away from that pledge. He refused to meet with the protesters.
Key military leaders now support repeal of Don't Ask, Don't Tell. They include Secretary of Defense Robert Gates, Joint Chiefs Chairman Adm. Michael Mullen, United States Forces – Iraq commander Gen. Raymond Odierno, and U.S. Central Command head Gen. David Petraeus.
"If given the opportunity I would reenlist in a heartbeat, I wouldn't even think twice," Howard-Stidham wrote in an open letter to McCain. "I love this country more than anything. I am asking to meet with you … so you can put a face to this devastating law. I am also urging you as your constituent to become a co-sponsor to the Military Readiness Enhancement Act S. 3065, which was introduced to the Senate on March 3, 2010."
GetEQUAL, the new LGBT direct-action group that has been targeting President Barack Obama and Congress in a series of civil-disobedience actions, praised the Phoenix demo.
"We stand in solidarity with First Class Petty Officer Howard-Stidham and his friends who were arrested for the cause," said co-founder Robin McGehee. "Over the course of the last couple of weeks GetEQUAL has been contacted by grassroots activists across the country looking for resources and logistical support for local actions. We have encouraged everyone to hold their local organizations and elected officials accountable and plan to do more in the states in the months to come."
McGehee said figuring out "how to knit together the great activists all across the U.S. who want to fight back" is one of the new group's greatest challenges.
The Phoenix protesters were cited and released on their own recognizance.
By Rex Wockner