George Alan Rekers, who co-founded the anti-gay Family Research Council, was photographed at Miami International Airport on April 13 returning from a European vacation with a male escort who says the two met via rentboy.com, Miami New Times reported May 4.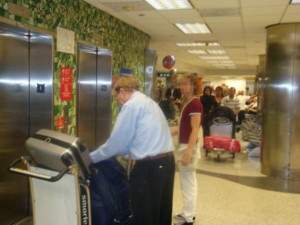 The escort, who has been called "Lucien," "Geo" and "Jo-vanni" in news reports, also told various media outlets that he gave Rekers daily massages in the nude during the trip, which included genital touching. Lucien showed CNN a travel contract between the two men that mandated daily hourlong massages, and told the network that Rekers "basically got excited" during the massage sessions.
Rekers, 61, has used his professorgeorge.com website and other online resources to fight back against the "slanderous" reports, saying he's not gay and that nothing "illegal or sexual" took place during his trip with Lucien, 20. Rekers told multiple media outlets that he will acquire or has acquired a lawyer and may or will sue for "defamation."
"I have been advised to retain the services of a defamation attorney in this matter, because the fact is that I am not gay and never have been," he told the Washington Post on May 6.
On his website, Rekers wrote: "A recent article in an alternative newspaper cleverly gave false impressions of inappropriate behavior because of its misleading innuendo, incorrectly implying that Professor George Rekers used the Rentboy website to hire a prostitute to accompany him on a recent trip. Contrary to Internet stories based on this slanderous article, following medical advice Professor George Rekers requires an assistant to lift his luggage in his travels because of an ongoing condition following surgery. … Dr. Rekers found his recent travel assistant by interviewing different people who might be able to help, and did not even find out about his travel assistant's Internet advertisements offering prostitution activity until after the trip was in progress. There was nothing inappropriate with this relationship. Professor Rekers was not involved in any illegal or sexual behavior with his travel assistant."
As the story unfolded, Lucien learned of Rekers' history of anti-gay activism and then decided to tell media outlets about the trip's alleged sexual component.
"It's a situation where he's going against homosexuality when he is a homosexual," Lucien told New Times.
Gay activist Wayne Besen, whose Truth Wins Out group battles the anti-gay movement, told New Times that Rekers' "fingerprints are on almost every anti-gay effort to demean and dehumanize LGBT people."
"His work is ubiquitously cited by lobby groups that work to deny equality to LGBT Americans," Besen said. "Rekers has caused a great deal of harm to gay and lesbian individuals."
Reports said Rekers also is a member of the board of the anti-gay National Association for Research and Therapy of Homosexuality. He also recently was paid tens of thousands of dollars by the state of Florida to be an expert witness against gay adoption. Florida is the only state that bans gay people from adopting across the board.
After Rekers testified in that case, Miami-Dade County Circuit Judge Cindy Lederman wrote: "Dr. Rekers' beliefs are motivated by his strong ideological and theological convictions that are not consistent with the science. Based on his testimony and demeanor at trial, the court cannot consider his testimony to be credible nor worthy of forming the basis of public policy."
Lucien told The Miami Herald he became an escort to pay for college, but that he might have to drop out now. He said Rekers paid him $75 per day during the trip, which is less than the $300-$500 he would have charged for sex. He told CNN there was no sexual contact other than the massages.
In a message to the Joe.My.God. blog, Rekers said no one should be surprised he was found in the company of a male escort.
"Like Jesus Christ, I deliberately spend time with sinners with the loving goal to try to help them," Rekers wrote. "Like John the Baptist and Jesus, I have a loving Christian ministry to homosexuals and prostitutes in which I share the Good News of Jesus Christ with them. … If you talk with my travel assistant that the story called 'Lucien,' you will find I spent a great deal of time sharing scientific information on the desirability of abandoning homosexual intercourse, and I shared the Gospel of Jesus Christ with him in great detail."
Not everyone in the media bought that explanation.
"Here's the basic idea about cases like this," MSNBC's Rachel Maddow said May 7. "The miserable denial and lying in your own sex lives is your own miserable, in-denial, lying business — unless you make it the whole country's business by crusading against the thing that is true about yourself that you hate so much. Being gay cannot be cured. Being a contemptible, pathetic hypocrite can be cured. … Congratulations, you've made the news."
By Rex Wockner