Activists in 31 Russian cities took part in the LGBT Day of Silence on April 24 and 25.
The youth-oriented international event targets anti-LGBT discrimination, defamation and violence.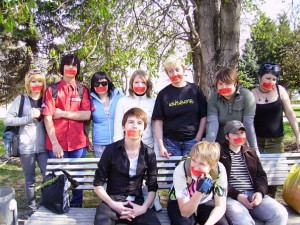 In most Russian localities, activists opted for a "flashmob" approach, since it's difficult or impossible to get city permission for LGBT events on public property.
Activists appeared and distributed literature in the cities of Abakan, Arkhangelsk, Cheboksary, Chelyabinsk, Cherepovets, Glazov, Ivanovo, Izhevsk, Kaliningrad, Kazan, Kemerovo, Kirov, Krasnodar, Moscow, Nizhny Novgorod, Novokuznetsk, Oboyan, Omsk, Perm, Petrozavodsk, Pskov, St. Petersburg, Samara, Severodvinsk, Syktyvkar, Tyumen, Vladivostok, Volgograd, Voronezh, Vyborg and Yekaterinburg.
For the most part, "the reaction of the passersby was calm and even friendly," said national coordinator Valery Sozaev of the Russian LGBT Network. "People took flyers with interest."
One exception was in Syktyvkar, a city of 230,000 people located 1,000 km (620 miles) northeast of Moscow.
Local organizers had to change the date of the protest following threats from neo-Nazis, who gathered on the original date at the original location with the intention of stopping the event.
"Our Day of Silence was successful, since we were able to attract 21 new cities," Sozaev said. "Most importantly, in most of the regions, people took initiative on their own, without waiting for organizations. This is very much in the spirit of the Day of Silence — individual responsibility in the process of building the world without homophobia."
For more information, see dayofsilence.lgbtnet.ru.
By Rex Wockner