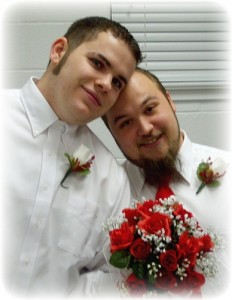 The U.S. District Court in Boston struck down Section 3 of the anti-gay
federal Defense of Marriage Act on July 8, ruling simultaneously in two
cases.
The section, which was found to be unconstitutional in three different
ways, states: "In determining the meaning of any Act of Congress, or of
any ruling, regulation, or interpretation of the various administrative
bureaus and agencies of the United States, the word 'marriage' means only
a legal union between one man and one woman as husband and wife, and the
word 'spouse' refers only to a person of the opposite sex who is a husband
or a wife."
DOMA's Section 3 overrides any state's determination that a same-sex
couple is married and says that they are not married for purposes of all
federal laws and programs, even though the federal government otherwise
has always deferred to state determinations of marital status.
In one of the rulings, in a case brought by gay activists, the court
determined that DOMA violates the Due Process Clause of the Fifth
Amendment to the U.S. Constitution by treating married gay couples
differently from married straight couples without any rational basis for
doing so.
"There exists no fairly conceivable set of facts that could ground a
rational relationship between DOMA and a legitimate government objective,"
the court said. "DOMA, therefore, violates core constitutional principles
of equal protection."
"Because animus alone cannot constitute a legitimate government interest,
this court finds that DOMA lacks a rational basis to support it," Judge
Joseph Tauro wrote. "Indeed, Congress undertook this classification for
the one purpose that lies entirely outside of legislative bounds, to
disadvantage a group of which it disapproves. And such a classification,
the Constitution clearly will not permit.
"As irrational prejudice plainly never constitutes a legitimate government
interest, this court must hold that Section 3 of DOMA as applied to
Plaintiffs violates the equal protection principles in the Fifth Amendment
to the United States Constitution."
In a second ruling, in a case brought by the state of Massachusetts, Tauro
determined that DOMA violates the Tenth Amendment to the U.S. Constitution
by intruding in areas of exclusive state authority, and violates Article
1's Spending Clause by forcing Massachusetts to discriminate against its
married gay citizens in order to receive certain types of federal funding.
"This court has determined that it is clearly within the authority of the
Commonwealth (of Massachusetts) to recognize same-sex marriages among its
residents, and to afford those individuals in same-sex marriages any
benefits, rights, and privileges to which they are entitled by virtue of
their marital status," Tauro wrote. "The federal government, by enacting
and enforcing DOMA, plainly encroaches upon the firmly entrenched province
of the state, and, in doing so, offends the Tenth Amendment. For that
reason, the statute is invalid."
Lambda Legal called the decisions "immensely important and inspiring steps
toward equality for all families."
"Since 1996, the so-called 'Defense of Marriage Act' has defended no one,
while imposing senseless and cruel discrimination against married same-sex
couples and their families," said the group's Jenny Pizer. "We applaud
Judge Tauro's conclusion today that Congress acted beyond its authority
when it used the massive power of the federal government to impose a
discriminatory marriage definition on the states. With today's decisions,
the federal court orders that the heavy hand of the U.S. government must
be lifted off the scales of justice, so all legally married people — gay
and straight alike — can receive the same treatment under U.S. law and in
federal benefit programs."
The activist case was bought by New England's Gay & Lesbian Advocates &
Defenders, whose Civil Rights Project director, Mary Bonauto, said, "Today
the court simply affirmed that our country won't tolerate second-class
marriages."
The next step in the cases is for the federal government to decide whether
it will appeal the rulings to the U.S. Court of Appeals for the First
Circuit. President Obama has said repeatedly that he opposes DOMA and that
it should be repealed, even as his own Justice Department defends it in
court.
But Obama also has said, on Aug. 16, 2008: "I believe that marriage is the
union between a man and a woman. Now, for me, as a Christian … it's also
a sacred union. God's in the mix. … I would not (support a
constitutional amendment banning gay marriage) because historically … we
have not defined marriage in our Constitution. It's been a matter of state
law that has been our tradition. Let's break it down. The reason that
people think there needs to be a constitutional amendment, some people
believe, is because of the concern about same-sex marriage. I am not
somebody who promotes same-sex marriage but I do believe in civil unions."
By Rex Wockner