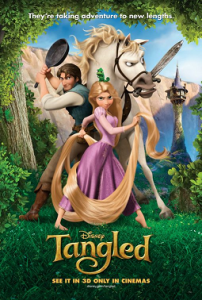 LOS ANGELES (Hollywood Reporter) – "Tangled" could move up to the top spot at North American box office this weekend, after the animated take on the Rapunzel fable narrowly failed to unseat Harry Potter during last weekend's Thanksgiving-stretched session.
"Tangled" enjoyed a five-day debut of almost $69 million, with $49 million of that coming Friday through Sunday. So even with half as much box office this weekend, that would be a $25 million haul for the Disney cartoon's second session.
"Harry Potter and the Deathly Hallows Part 1" fetched $50 million during the three-day period, a 60 percent slide, and is thus sitting in a similar situation. After 13 days, the seventh film in Warner Bros.' boy-wizard series has earned $225 million.
While "Tangled" was one of four wide new releases last weekend, the upcoming round sees just one rookie: "The Warrior's Way," which is likely to debut in the middle single-digit millions.
A $42 million New Zealand project, the Relativity Films-distributed R-rated pic is set in the U.S. badlands and thus something of a Western. Korean actor Dong-gun Jang plays an Asian warrior assassin forced to hide in a small town. Geoffrey Rush, Kate Bosworth and Danny Huston also star. Sngmoo Lee wrote and directed.
Male youngsters form the target audience, but must-see interest is slack.
Also this weekend, Fox Searchlight opens Natalie Portman starrer "The Black Swan" in eight markets. The atmospheric suspenser is among a handful of prestige pictures seeking to use awards-season promos to fuel their initial runs.
Industry pundits will also see if Sony's dance musical "Burlesque," Fox's romantic comedy "Love and Other Drugs" and CBS Films' actioner "Faster" can get a firmer footing after stumbling out of the blocks last weekend.
By Carl DiOrio