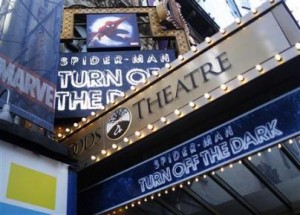 NEW YORK (Reuters) – "Spider-Man" returned safely to the Broadway stage with a mishap-free performance on Thursday night, restoring confidence in the show's ability to protect the health of its cast but not, perhaps, its financial future.
The $65 million production with music by U2's Bono and The Edge had suspended two shows over safety concerns since Monday when an actor plunged nearly 30 feet from an elevated platform, breaking ribs and requiring surgery.
"Spider-Man: Turn Off the Dark" resumed to mixed audience reviews and without accidents during its 35-plus aerial stunts, though one of the costumed and tethered "Spideys" flying over the audience nearly fell off a ledge and needed help from a stage hand to regain his footing.
Four actor injuries and major delays before the November 28 start of preview performances have focused attention on the most expensive production in Broadway history, raising speculation that despite its star power the Julie Taymor-directed show could become an epic flop.
Two shows set for Wednesday were canceled while state and federal officials reviewed the system of tethers and harnesses used by actors and stunt performers. Some $400,000 in ticket sales were lost, The New York Times said.
Audience members said the element of danger added to the show's intrigue.
"It's like going to a NASCAR (auto) race. Everybody's looking for an accident to happen," said Mark Infante, 53, a real estate developer who was disappointed with the show, especially the music.
"I thought Bono and The Edge would have done a better job. It needs more back beat," he said.
Customers mostly marveled at the airborne theatrics and the spectacular set design, but the big musical numbers received only polite applause and some said they expected more for their money. Orchestra section tickets go for $150 and nearly twice that on resale websites.
"I'm a big U2 fan but I was not blown away," said Greg Harden, 40, a real estate investor.
"The plot has to be worked on," said Fiona Salmon, 40, a volunteer for nonprofit theater. "They should have had more aerial stunts. It was more like Mary Poppins than Spider-Man."
The show is still in previews, allowing producers to warn the audience it is not seeing a finished product. The first performance on November 28 was stopped at least five times while the crew worked out technical problems.
The official opening is set for February 7, and the show will have to run for years in order to break even.
Actor Christopher Tierney, 32, became the fourth performer to be injured when he fell off the platform toward the end of Monday's show. Producers told the audience before Thursday's performance that he had successful surgery and would start rehabilitation on Monday.
Amateur video showed him tumbling over the edge of the elevated platform while crouching and looking down at the Mary Jane character, who was hanging from a rope. In the same scene on Thursday, the costumed Spider-Man stood upright and further back from the edge.
Ten dancers and stuntmen wear the Spider-Man costume in addition to Reeve Carney in the role of Peter Parker.
(Reporting by Daniel Trotta; editing by Bob Tourtellotte)
By Daniel Trotta