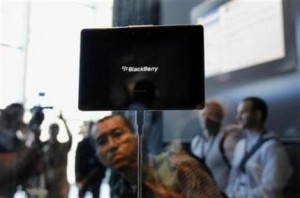 TORONTO (Reuters) – Research In Motion defended its embryonic PlayBook tablet computer against charges its battery life is shorter than that of rivals already on the market, saying power management will be comparable.
Kaufman Bros analyst Shaw Wu earlier this week cited unnamed sources saying the PlayBook's battery lasts "a few hours" compared with six hours for Samsung's Galaxy Tab and 10 hours for Apple's iPad.
Wu said RIM may have been forced to delay the PlayBook's launch so it could re-engineer the product, unveiled in late September and due to be released early in 2011.
Waterloo, Ontario-based RIM dismissed Wu's claims.
"Any testing or observation of battery life to date by anyone outside of RIM would have been performed using pre-beta units that were built without power management implemented," the BlackBerry maker said in an emailed statement.
It said development of the battery was on schedule and its performance would be comparable to competitors.
Analysts, on average, forecast RIM will sell fewer than 4 million PlayBooks in the 12 months after its launch.
Apple has sold more than 7 million iPads since launching the device in April and analysts expect as many as 6 million to have been sold in the December quarter.
(Reporting by Alastair Sharp; editing by Rob Wilson)