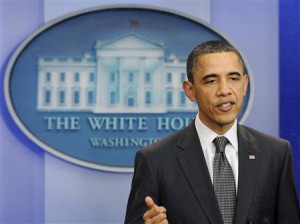 President Barack Obama and leaders in Congress will attempt to reach a spending-cut deal on Thursday that would avert a dangerous government shutdown at week's end.
Mindful of a midnight Friday deadline when temporary government funding runs out, Obama called on negotiators to work around the clock to iron out "relatively narrow differences" between Democrats and Republicans over the level of federal spending between now and September 30.
"I remain confident that if we're serious about getting something done, we should be able to complete a deal and get it passed and avert a shutdown," Obama told reporters late on Wednesday after a 90-minute meeting with congressional leaders.
But there was still no deal by 8 a.m. EDT on Thursday, despite all-night negotiations, according to an aide to House of Representatives Speaker John Boehner.
Boehner, a Republican, left Wednesday's White House meeting telling reporters that while no agreement was reached, progress was made.
Senate Majority Leader Harry Reid, a Democrat who also attended the meeting, said, "I have confidence we can get this done."
Shortly before the White House meeting, a Democratic aide in Congress said the total spending cuts for this year in the deal being negotiated would probably end up being closer to $33 billion than the Republicans' $40 billion target.
If Obama and congressional leaders can reach a deal promptly, it would clear the way for the House and Senate to vote on funding the federal government through September 30 and put an end to a months-long fight over spending for the fiscal year that is now half over.
On Wednesday, Obama warned of economic harm if a budget stalemate caused the federal government to partially close for the first time in 15 years.
With the U.S. economy in the early stages of a recovery from the worst recession since the 1930s, Obama told reporters that a government shutdown would have "ramifications all across this economy," including on small business owners, applicants for home loans and workers who would be left without paychecks as the result of federal layoffs.
IF NEGOTIATIONS FAIL
Administration officials also warned that a government shutdown could halt the processing of income tax refunds right in the heart of the refund season.
Various government agencies were notifying their workers of the possibility of layoffs if negotiations failed.
In a letter to Department of Agriculture employees on Wednesday, Agriculture Secretary Tom Vilsack warned: "Prudent management requires that we plan for an orderly shutdown should Congress be unable to pass a funding bill."
As closed-door negotiations were set to continue on Thursday on Capitol Hill, Boehner also set plans to stage a Thursday vote in the House on yet another stop-gap funding bill. This one would last through April 15 for most of the government and would achieve $12 billion in additional spending cuts, while assuring military funding for through September 30.
Democrats have rejected the legislation. "That's just not bad policy, it's a fantasy," Reid said.
But Republicans hope that House passage would put further pressure on the Senate to act.
Also late Wednesday, a House committee passed a Republican budget blueprint for 2012 that was unveiled on Tuesday. It would slice about $6 trillion more in spending over the next decade, largely through Medicare and Medicaid healthcare benefit cuts to the elderly and poor. Senate Democrats are expected to block it.
By Richard Cowan
WASHINGTON (Reuters) – (Additional reporting by Andy Sullivan)