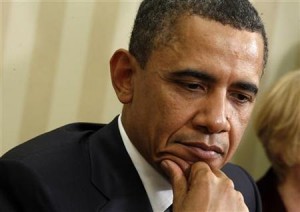 Facing a midnight deadline, the White House and Congress worked furiously on Friday to break a budget deadlock and prevent a federal government shutdown that would idle hundreds of thousands of workers.
President Barack Obama and congressional leaders failed to reach a deal in late-night talks on Thursday as Democratic and Republican negotiators raced the clock to agree on government funding for the rest of the fiscal year that ends September 30.
Democrats said the two sides remain at odds over a Republican push to include birth control restrictions in the deal, while Republicans said they still differ on roughly $6.5 billion in cuts over current spending levels.
Senate Democratic Leader Harry Reid said negotiators had agreed on $38 billion in cuts and the last remaining issue was a Republican push to eliminate federal funding for Planned Parenthood, a family planning group that is the country's largest abortion provider.
"The only issue left was women's health," Reid told reporters. "This has been a moving target but now we've come to realize that the moving target is now focused on a bull's eye on women in America."
Without an agreement on spending for the next six months, money to operate the government runs out at midnight on Friday (0400 GMT on Saturday) and agencies such as the Internal Revenue Service would begin a partial shutdown.
"There's no deal yet unfortunately," Steny Hoyer, the No. 2 Democrat in the House of Representatives, told NBC's "Today" program on Friday.
"I think we're very close. I think we've come 70 percent of the way in terms of dollars. That's a long way to go in trying to reach compromise," Hoyer said.
The White House said a shutdown would idle 800,000 federal government workers and put a crimp in the U.S. economic recovery. Vital services such as defense, law enforcement, emergency medical care and air traffic control would continue.
The showdown is the biggest test of leadership for Obama, a Democrat, and congressional leaders since Republicans made big gains and took control of the House of Representatives in elections last November.
The confrontation carries big political risks for both Democrats and Republicans, who could be seen by voters as failing to make compromises.
Reid said Democrats in the Senate plan to vote on Friday on a bill that would postpone the possible shutdown for a week. The measure would differ from a similar stopgap bill that has passed the Republican-controlled House, Reid said. Under Senate rules, all 100 senators must agree to allow the bill to come up for a vote.
By Andy Sullivan and Richard Cowan
WASHINGTON (Reuters) – (Additional reporting by Patricia Zengerle, Kim Dixon, Donna Smith, David Alexander, Andy Sullivan, Thomas Ferraro and David Morgan; editing by Will Dunham)