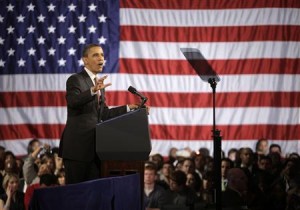 President Barack Obama said on Thursday a Republican debt-reduction plan would create "a nation of potholes" as he used the first events of his 2012 re-election bid to strike a sharp contrast with his opponents.
Seeking to reignite the energy of supporters that propelled his candidacy in 2008, Obama said "extraordinary progress" has been made during his two years in the White House but much work remains. He called on supporters to help him finish the job.
Obama used Washington's budget battles as a backdrop at three fund-raising events estimated to raise $2 million for his campaign from a hometown crowd that included many key figures in his rise to power.
The president, who offered a 12-year plan on Wednesday to reduce the deficit by $4 trillion, skewered a proposal by Republican Representative Paul Ryan.
Ryan would trim about the same amount without raising taxes and by making cuts in spending, such as on medical and social programs for the poor and elderly.
Republicans have attacked Obama's plan for raising taxes on wealthy Americans. Obama returned fire at events that raised about $2 million for a campaign fund that may eventually rise to a record $1 billion for 2012. Republican cuts, he said, would create what used to be known as "Third World" airports in the United States.
"Under their vision, we can't invest in roads and bridges and broadband and high-speed rail," Obama said. "We would be a nation of potholes."
A THEME FROM 2008
At the evening's largest event, at Chicago's Navy Pier where 2,300 people gathered, Obama brought back a popular theme from his 2008 campaign, reminding his supporters "of those three simple words we believe in as a people: Yes we can."
He also mocked conservatives who claim he was not born in the United States.
"I wasn't born here," Obama said. And after a pregnant pause and the crowd laughed, he added: "Just want to be clear, I was born in Hawaii."
Obama leads a host of potential Republican challengers in public opinion polls, but most surveys give him less than 50 percent support.
After two years of economic crisis, oil spills, budget battles and the like, Obama declared himself "a little older and a lot grayer" and said, "I've got some dents and dings in the fender, but that vision hasn't changed."
Obama begins his re-election bid having just avoided a government shutdown in a last-minute budget deal with Republicans. It was clear from his remarks that there are still strains from that battle.
The Republican approach, he said, is that "we can't afford to do big things anymore" and says to the underprivileged, "tough luck, they're on their own."
Obama, who reluctantly agreed to extend Bush-era tax cuts late last year even for the richest Americans, said if the wealthy were to "pay a little more in taxes," it would help solve America's fiscal challenge without forsaking its responsibility to its people.
"If we apply some practical common sense to this, we can solve our fiscal challenges and still have the America that we believe in. That's what this budget debate is about and that's what the presidential campaign is going to be about."
Obama has tried to straddle a middle ground and sought compromise with his political adversaries since Republicans took command of the House of Representatives and picked up strength in the Senate in elections last November.
He said he recognized that some of his liberal supporters have been frustrated "because we've had to compromise with the Republicans a couple of times," and that he felt the same way sometimes. "We knew this wasn't going to be easy."
Perhaps Obama's most serious potential rival in next year's presidential election, former Massachusetts governor Mitt Romney, threw his hat into the ring this week by announcing he was looking into running for the Republican nomination.
CHICAGO (Reuters) – By Steve Holland
(Editing by Mohammad Zargham and Christopher Wilson)